SMALL STRAWS IN A SOFT WIND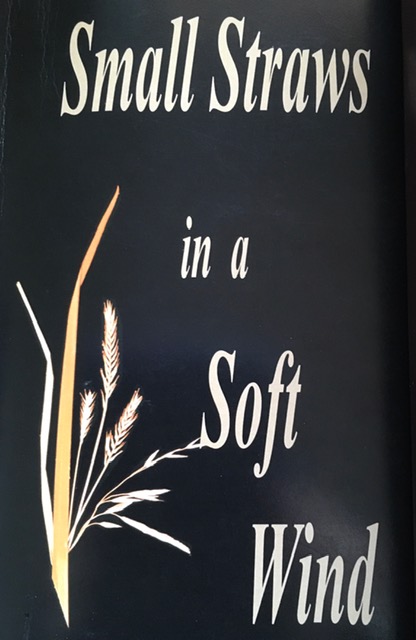 FRUIT OF THE SPIRIT
But the fruit of the Spirit is love, joy, peace, longsuffering, gentleness,
goodness, faith, meekness, temperance: against such there is no law.
Galatians 5:22-23 KJV
Introduction:
This work of Small Straws In A Soft Wind--Fruit of the Spirit is a collection of words from the Lord that have been compiled topically. One of the most frequently asked questions relates to whether these words are generic or specific. Do they apply corporately or personally? The answer is both! Taken together we are the Body of Christ, but we are members individually. The Bible says that when one member suffers, all the members suffer with it. (1 Corinthians 12:26) So, as the Lord speaks to the Body, of which we are members, He speaks to us. Conversely, when the enemy attacks the Body, all of the members are affected specifically; it is the same attack manifested differently in various situations and circumstances individually.
Another question that pops up regularly has to do with the title, Small Straws In A Soft Wind. Where did it come from and what does it mean? Consider John 3:8 "The wind blows where it wishes, and you hear the sound of it, but cannot tell where it comes from and where it goes. So is everyone who is born of the Spirit." His word comes in a still, small voice and is ushered in by the wind of the Spirit. Unless you are very still, the word can float by so softly that it can go unnoticed. The picture always come to mind of sitting quietly in the warm sunshine with a gentle breeze rustling your hair and brushing your cheek when a small blade of dried grass, a dandelion seed, or a golden leaf drifts by. Unless you are paying attention you could miss it. But just as it gently glides by, you reach out and pluck it out of the air.
Enjoy the sunshine of His love and the Wind of His Spirit as you catch the small straw of His gentle voice.

Chapter 1
LOVE...
"There is no fear in love: but perfect love casts out fear." 1 John 4:18
Those I Have Sent You To Love
I have asked the question: When I come back, will I find any faith on the earth? Will I find you still believing in My return? Will I find you faithful in doing what I have called you to do? Or, will I find you walking in the flesh, in division, strife and contention--taking advantage of those around you, worried about getting your share, being concerned about your own fair treatment while being unconcerned about those around you that I have sent you to love? I say today, shake off the fetters of selfishness and self-interest. Stop beating up on others, and stop lashing out with your tongue. Have you forgotten My greatest commandments?
Matthew 22:37 Jesus said to him, "You shall love the Lord your God with all your heart, with all your soul and will all your mind. This is the first and great commandment. And the second is like it: You shall love your neighbor as yourself."
Lift Me Up
You have heard it said and seen it written that if I be lifted up, I will draw all men unto Myself. I want you to realize that when you lift Me up, you are not lifting up a historical figure. For, I am the Head and you, My church, are My body. So, to lift Me up is to lift up and exalt the Body. Every time you encourage and honor another member of My body, you are honored and lifted up. By the same token, every time you discourage, tear down or slander those who belong to Me, you not only debase the Body, but you deny Me.
I Have Called You To Care
I remind you today that I have given you gifts to be used to manifest My kingdom. Many of you have placed your gift on a spiritual high shelf to look at infrequently or to use only for special occasions as though the gift itself was something beyond ordinary value. The fact is that it is not the gift that has great value, but it is the use of the gift that has worth. Your heirloom silver expresses its greatest value when used to feed your family and guests. Otherwise it becomes tarnished from lack of use. And, a silver spoon expresses as much virtue scooping out jelly on a peanut butter sandwich for a child as it does serving dessert to a king.
I Am Wooing You
If you are willing, I am wooing you close to My breast that you might hear My heart. I am calling a people close to Me who will not only hear My heart, but will allow their own hearts to beat with the same rhythm so that your desires become attuned to My own so that you will carry out My purposes on the earth. Will you abandon your own ways and your own desires? Will you lay down your life and take up life in Me? I am calling you to a closer walk with Me. Will you hear the call and draw near? Do not stand and view Me from afar. Our relationship must be close up and personal. My desire is that we become one.
You Are My Beloved
Oh, My people, I desire that you shut yourselves in with Me. You are far too scattered--going here and there, doing this and that, busy! Come. Be quiet. Stop. Take time to fellowship with Me in the quietness of your soul. Let us have a time of intimate fellowship together where you can hear Me whisper to your heart. You are so precious to Me. I long for your devotion as you come apart to be alone with Me. You are My beloved.
Come Close To Me
Come to Me. I say, COME to Me. Come to ME! I cannot minister to your needs or bring life and hope from afar. I desire to heal you and make you whole in every way, but I cannot when you hold yourself apart and away from Me. It is not enough to read My word and to know about Me. You must come. Come close so that I may touch you, touch your heart, heal your brokenness, and satisfy your longing. Relationship with Me requires intimacy, which is not possible unless you come close to Me. I desire fellowship with you. Come!
Flourish In My House
You are My precious possession. I hold you with tenderness and seek only your good. I seek to protect you and guide you and bring wisdom to your heart. My desire is to see you in prosperity and good health, flourishing in My house. The problem comes when you step out of My house and leave the safety of My environment. The enemy is waiting to bring destruction and death. It is so important that you be found in the safety of My presence. Be careful not to venture beyond My will and the place of safety that I have prepared for you. Be found in safe habitations.
Psalm 92:12-13 "The righteous shall flourish like a palm tree, He shall grow like a cedar in Lebanon. Those who are planted in the house of the Lord shall flourish in the courts of our God"
I Am Asking You To Love
I am building tolerance in My people, which means breaking down stubbornness and pride. I will cause you to interact with others who are really very much like yourselves, but with whom you disagree. I want you to submit these encounters to Me so that I can cause you to see yourself and others as I see you. I am a God of mercy and compassion. I am not asking you to compromise. I am asking you to love.
I Love My Creation
I am doing a work of love and acceptance in My people. This does not mean that you accept or embrace sin. Doesn't My word tell you to hate evil? I also hate evil, but I love My creation. I want you to see yourself and others as I see you. I see you as My Beloved! I also see the enemy's work and deception against you, but I have given you the ability to overcome him by the blood of the Lamb. So, I see you as overcomers. Be strong in the Lord and in the power of His might!
Revive Yourselves
Rejoice and be exceedingly glad, for I am doing a marvelous work among My people. I am calling My chosen ones into more intimate fellowship with Me and causing them to rededicate themselves to Me and My purposes. My heart delights in a consecrated people who are set apart for My purposes alone, a people who are uncompromising. Rise up, those of you who sleep. Shake off the slumber that brings apathy. Revive yourselves. Come back to your First Love!
Perfect Love
I am stirring the hearts of My Beloved. Do you feel the stirring? I am awakening love in you. I am causing you not only to love Me in a more profound way, but I am causing you to love those that I love. I am also stirring your hearts with compassion for the lost, the lonely, the broken, the wounded, and the backslidden. I delight in the awakening of My Beloved! I am infusing you with boldness to declare your love for Me. Perfect love casts out fear.
Let Love Cover
I say to you that a spirit of offense has once again been released to tempt you. The enemy is always seeking ways to destroy. He will attempt to cause division among the brethren. Refuse the lies and let love cover a multitude of sins. Division not only separates you from others, but separates you from Me. Seek to perform the ministry of reconciliation and refuse to be drawn into judging and criticizing one another even in the privacy of your own heart.
1 Corinthians 13:4-8a Love suffers long and is kind; love does not envy; love does not parade itself, is not puffed up; does not behave rudely, does not seek its own, is not provoked, thinks no evil; does not rejoice in iniquity, but rejoices in the truth; bears all things, believes all things, hopes all things, endures all things. Love never fails.
A Faithful Bride
I have already spoken to you of the harlot bride, and I say many will run after other lovers because there is a seducing spirit that would lure My Bride into the world of lust and flesh--the lust of the eyes and the pride of life. When you feel your heart being pulled away from your First Love, resist. Return to Me with a whole heart lest you betray Me and find yourself hollow and empty, devoid of the love we once shared. My Bride will indeed be without spot or wrinkle. She will be a faithful Bride and our union will be for eternity.
Reconciliation
I desire to perform the ministry of reconciliation through you, not only in the sense of atonement, but also in the sense of restoration. I want My people to be restored in relationship to Me so that they will return to their First Love. And I want them to be restored in their relationships to the Body of Christ, first in families--husbands, wives, children--then to brothers and sisters in Christ. The foundation of reconciliation is forgiveness. Let forgiveness have its perfect and complete work in you, and I will do the work of reconciliation.
The Sunshine Of His Love
I have brought you through the valley of the shadow of death, and I am bringing you to a higher place where you will sit in the sunshine of My love. You will never wonder about My love again. I am doing a foundational work in you that cannot be removed. The foundation is complete, and it is a strong foundation. You have been in a time of transition, which is almost complete. When the transition is complete, I want you to build and occupy the ground you have gained. I have given you ground where your roots can go deep. Be strong in what I have given you to do and to be.
The Greatest Commandment
I am giving opportunities to learn to love one another. The greatest commandment is to love the Lord your God with all your heart and the second great commandment is to love your neighbor as yourself. So, how do you learn to love when you only love those who love you? Opportunities will arise for you to love those who don't love you, who mistreat and reject you. Circumstances will arise to see if you will love your enemies, but you must choose to forgive, release, and love those who have hurt you. Your carnal nature will want to retaliate and bite back. But, I say, use this time to rise above your indignation and let My love flow through you. That is the mark of a true disciple.
Know My Heart
There are those who seek to know pure doctrine, and that is commendable. But, you will never know pure doctrine unless you know Me. Do not seek so much to improve or fine tune your theology, but rather draw close to Me to know My heart and to yield to My work in you. If you understand all mysteries and have all knowledge and do not have love, you have nothing. Seek My face and yield your heart that I may work My nature in you; that you may be changed into My image.
Forgive And Release
Oh, My children, how I desire to have intimate fellowship with you. But, when you have rejected one another and been given to offense, you not only separate yourselves from one another, but you separate yourselves from Me. Until you bring down the walls of offense that have brought division you will be alienated from Me. Your only way out of this dilemma is to forgive. I call you today to forgive and release those who have offended you.
Matthew 5:44-45 "But I say to you, love your enemies, bless those who curse you, do good to those who hate you, and pray for those who spitefully use you and persecute you, that you may be sons of your Father in heaven."
My Love Without Measure
I come to you now with the sunshine of My love. It is just like that! You can rejoice in it and receive and soak it up. Or, you can draw the blinds and darken your abode and shut out the light. It is totally up to you. However, My desire is that you throw open the windows, step out spiritually into the bright light of My presence and receive My love without measure. Beloved, cast off restraint. Cast off doubt, unbelief and oppression, and come into the liberty and freedom of My Spirit where all you have need of is available for the asking. Faith works by love.

Chapter 2
JOY...
From Wilderness To Garden
Your foundation shall be laid, and you shall be built. I will raise up your waste places. I will make your wilderness like a garden and raise you up in joy and gladness of heart. For, I have set a standard in your midst and established a plumb line. You shall build according to My pattern. Have I not called you forth for such a time as this? Do not be afraid of making mistakes, for I am with you and will instruct you in even the smallest detail. Am I not the Master Carpenter? Arise: let us build. The time has come for the walls to be built. The decree has gone forth far and wide, and I will gather My people from sea to sea and mountain to mountain. I will make the outcast a strong nation, says the Lord.
Victory Is Assured
Rejoice and be exceedingly glad, for I have laid up great reward for you. Have I not said that you are blessed when people rail against you, subject you to verbal abuse and attack, and harass you without cause? I see and hear these attacks against you. I know their origin and that they are false accusations. I have promised to defend you, for I am your advocate. The enemy has stirred the beggarly element of the earth against you to bring discouragement, but I have made your forehead like flint and have set you on a path to accomplish My purposes. I tell you that I have created the spoiler to destroy, but no weapon formed against you shall prosper. The heat of the fire will only serve to purify and strengthen you. Rejoice that you are found worthy of such an attack. Rise up with a shout of great joy for the victory that is assured.
Watch And Be Amazed
You have been struggling against hindering forces that have come like an invisible wall. It feels to you like you have been walking through thick Jell-O in the spirit realm. But today, I have sent My angels to push back the powers of darkness that have hindered your forward progress. There will be breakthrough in a number of areas. Things that should have taken days or weeks but have taken months to accomplish will now come to completion. Watch and be amazed at how quickly things will begin to move ahead, and rejoice in the power and glory of your Lord.
You Are My Own Special Treasure
In a vision I saw an old jalopy stuck in the mud, and the Lord spoke to those who feel dilapidated and run down: "You are feeling unloved, unappreciated, and unworthy. You feel useless in many ways, and you have become stuck in that mindset. But the only thing that causes you to be useless is that you have believed the lie that you have no value. You are valuable to Me! You are My own special treasure--unique, matchless and peculiar. I have a specific and perfect plan for you that is unlike any other, but this plan cannot be implemented as long as you are stuck in your rut. Rise up and anoint yourself with the oil of gladness, for I will cause you to come out of that place of neglect. I will restore, renovate, rejuvenate, repair and rebuild that which has come to ruin."
Have You Sensed It?
Have you sensed it? The enemy has tried to envelop you in a spiritual fog so that you cannot see clearly or discern correctly. He has sent an attack against you of fear, rejection and failure to paralyze you and stop you from being effective. This has had a numbing effect to prevent your progress and make you feel cut off from Me. However, I say to you, rise up for the light of My glory will burn off the fog and bring truth to your situation. Look up. Be still. I have not left you or forsaken you. I am with you. Rejoice, for this is a day of liberty and release. This is a time of breakthrough, for the day declares it.
My Vessel Of Honor
I am preparing you to do mighty exploits in My name. I am sending you forth to do the work that I have set before you. I have gone before you and made the crooked places straight. This work is not beyond you, nor will it be a burden to you. Rather, it will be a delight as I move through you to establish My purposes on the earth. No more struggle to perform. Rise up out of the place of condemnation, unworthiness and failure, for you are My vessel of honor, and the work that I have given you is honorable. Rejoice!
Smite The Enemy With Great Joy
When I bring joy to your heart it will cause healing to come so that your soul can be set free from old bitterness and bondage. When you yield to this process it will be accomplished. That same joy will also bring victory in warfare. Your weapons against the enemy will not be carnal, but will be released in the power of My Spirit through joy, which is your strength. I say, rise up and smite the enemy with great joy.
This is A Great Work
Watch and be amazed at the things that are about to transpire, for I will cause you to redeem the land. Those who have ears to hear will take back what the enemy has stolen and used for his purposes. I will bring restoration and healing to areas that have been devastated and brought to ruin. I will release life and joy to those who have suffered desolation. Lift up your heads and rejoice, for this is a great work.
Isaiah 58:11-12 The Lord will guide you continually, and satisfy your soul in drought, and strengthen your bones; you shall be like a watered garden, and like a spring of water, whose waters do not fail. Those from among you shall build the old waste places; you shall raise up the foundations of many generations; and you shall be called the Repairer of the Breach, the Restorer of Streets to Dwell In.
New Wine
This is the dawning of a new day. Arise and go forth with anticipation, for I am releasing those things that have been held in reserve for end-time events. I have placed you deliberately in a position of great effectiveness for such a time as this. This is not a time to shrink back or hide in places of seclusion, for it is time for the saints to possess their inheritance. For those who have been hidden in obscurity, I say to you, I have saved the best for last. You represent the new wine, and I will pour you out liberally to this generation. Rejoice with great joy. Do not try to demonstrate My Spirit in the power of the flesh, for you will not move Me. I will move you! Yield to the mighty working of My power through you.
Praise Your Way To Freedom
I speak to those of you who still allow discouragement and disappointment to rule your life. You have allowed the enemy to take you into captivity. But I have not assigned you to the prison house. I have called you into light and freedom. Shake off the shackles of unbelief, depression, and discontentment. Refuse to be confined through self-pity. This is a new day, and there is much work to be done in My kingdom. You cannot be used in a place of restraint. You must do what Paul and Silas did in the dungeon; you must praise your way to freedom.
Psalm 107:20-22 He sent His word and healed them, and delivered them from their destructions. Oh, that men would give thanks to the Lord for His goodness, and for His wonderful works to the children of men! Let them sacrifice the sacrifices of thanksgiving, and declare His works with rejoicing.
My Yoke Is Easy
The enemy has brought thoughts of doubt and fear along with a sense of inadequacy and failure to many of you. His prime weapon against you to disarm and disable you is discouragement. But, I say that you are MORE than a conqueror. When I call you to My service, I also equip, supply and direct you. You are not alone, and I do not give you instructions and then leave you alone. Haven't I said that My yoke is easy and My burden is light? Come along side Me and yoke with Me, for I would not ask you to do anything that you are not well able by My Spirit to accomplish. Refuse to be overwhelmed. Rise up out of the darkness of oppression that has encompassed you and be released in the joy and expectation of victory.
Prepare To Drink Deeply
I am still your cloud by day and your fire by night. Look with your spiritual eyes and see that the cloud has begun to move again. You have camped in this wilderness long enough. I am taking you to where the water of life flows freely from the Rock. Prepare to drink deeply as I establish you in the true, clear, free-flowing truth of My word. My remnant will be brought forth in peace and one accord and will be fruitful. You shall be as trees planted by rivers of living water whose leaves will not wither, whose flower will not fade, and I will cause you to prosper where I plant you, and you will bear fruit in abundance.
Rainbows In The Light
I saw a myriad of colors released into my spiritual vision, and the Lord said: "I am about to release a vibrancy into your life that will make the past look like shades of gray. This spiritual color will be generated by greater light, which is the brightness of My presence which will expose My purposes and illuminate your path in greater depth and clarity. Prepare yourself, for what you called spiritual renewal in the past will seem like child's play compared to what I am about to do. It would be wisdom for you to put aside and bring closure to old issues that caused you to live in darkness. Rainbows are only visible in the light."
Only In Thanksgiving
My loved ones, give thanks for exactly where you are and the tests that moLd you. Only in thanksgiving can you move ahead to greater things. I am doing a work in your that cannot be accomplished any other way than through these circumstances. Offer up a sacrifice of praise! Refuse to drown in a sea of self-pity. Rise up in new perspective that you are where you need to be reworked into My image. Don't kick against the goads!
Be Happy
Be of good cheer. Be happy. The joy of the Lord is your strength. Joy is the strength of your faith because you are joyful when you trust God for His best. When you walk in doubt and unbelief, you will sink in despair, worry, and anxiety. Walk in the Spirit and you will not fulfill the lust of the flesh. And, when you walk in the Spirit the fruit of the Spirit is inevitable--love, joy, peace, long-suffering, kindness, goodness, faithfulness, gentleness, and self-control. (Galatians 5:22-23)
The Day Of The Lord
I say to you that these are exciting days--days that My prophets and servants of old could only imagine. You are living in the day of the manifestations of end-time prophetic fulfillment. Hush! Behold! Be astonished at the awesome and mighty work I am beginning to do among My people. I am using them and equipping them with tools that they would not have envisioned even a few months ago to reap the harvest. Rejoice for the Day of the Lord is at hand. Take advantage of every opportunity, regardless of how remote it might seem. I have gone before you to prepare the way. Haven't I said that I would go before you and make the crooked places straight and break in pieces the gates of bronze and cut the iron bars? That means I am going before you to remove the hindering forces of the enemy. So rejoice! The Day of the Lord is at hand!
I Have Appointed You To Life
Oh, My children, have I not said that your faith will be tested and tried? You have wanted to give up, but I tell you to press on! It is time to leave the past behind and move ahead. Let it die and move past your mourning. I have not appointed you to death but to life, and you cannot live in the fullness of life if you are constrained by past failures. You must stop looking at what once was or could have been, and stop wallowing in sorrow. Rise up today. Cast aside your widow's garment and put on the garment of praise for the spirit of heaviness. I say assuredly that the joy of the Lord is your strength.
Be Exceedingly Glad
Haven't you cried out to Me to bring you higher? Haven't you desired to see more of Me? You can never arrive at a new destination without making the journey. You have asked Me to remove pride from you, but there is no way to bring you through that process without debasing you. So, rejoice that your prayers are answered. Be exceedingly glad in the opportunities that have been afforded you in accomplishing your goal. Love your enemies, bless those who curse you, do good to those who hate you, and pray for those who spitefully use you and persecute you, for they are the instruments used to perfect you. Again, I say, rejoice and be exceedingly glad.
Isaiah 54:16-17 "Behold, I have created the blacksmith who blows the coals in the fire, who brings forth an instrument for his work; and I have created the spoiler to destroy. No weapon formed against you shall prosper, and every tongue which rises against you in judgment you shall condemn. This is the heritage of the servants of the Lord, and their righteousness is from Me," Says the Lord.
Rejoice!
Rejoice! There is a release of new life, new strength, new growth in, around, and through you. Rise up out of the dead ashes of the past. Lift yourself up from your position of grief and mourning, for yesterday is gone. I have set before you this day death and life; cursing and blessing. Choose life! Rise up in My strength and power. Refuse to allow the circumstances of life to overtake you. Come to Me for renewal. Haven't I said that they that wait upon the Lord shall renew their strength? Come, and I will renew you. I will empower you. I will raise you up in newness of life.
Isaiah 40:31 But those who wait on the Lord shall renew their strength; They shall mount up with wings like eagles, they shall run and not be weary, they shall walk and not faint.


Chapter 3
PEACE...
Take Refuge In Me
Do not be shaken in your mind or troubled. The enemy has come with a whirlwind of lies and trouble to get you off balance and distracted. But, I say, calm down. Come into the eye of the storm where there is peace. The storm will continue to rage around you, and you will see the effects of this violent commotion and be aware of its destructive nature, but you must come and take refuge in Me. I will protect you and lead you safely out. Quiet your soul, and refuse to be drawn into the turmoil through fear. Stand still and see your salvation, for I will certainly rescue you and hide you in My secret place. (Psalm 91)
That Place Of Peace
Rise above the noise and clamor of circumstances that tend to dominate your attention and focus. Give no place for the nagging voice of the enemy that wants you to dump down into confusion, condemnation, rejection and self-focus. Throw off the cloak of anxiety and worry. This cloud of dust will make it hard for you to breathe and will impair your spiritual vision. Set your face like flint to come to your spiritual Jerusalem, that place of peace. I give you My peace. Let not your heart be troubled; neither let it be afraid. I am indeed with you and will lead you out of this dry place if you will let go of the things that hold you and bind you. I will give you a garment of praise for a spirit of heaviness.
My Secret Place
Be still, My child. How can you hear My still small voice when you are so noisy inside? Come away to My secret place. Leave the clamor and turmoil of your circumstances behind, for you have need of rest. Life's issues have pulled you down like quick sand. I say to you, stop struggling against these issues; cry out to Me, and I will rescue you. I will establish you in a place of safety, but you must let go of the whirlwind of activity. Release to Me all that has stolen your peace. Come to Me to be refreshed. Come into My Sabbath rest.
Trust Me!
What is this feeling of being unsettled and misplaced? You are experiencing a course correction. I want your expression of My kingdom to be more pure than ever. I want it to be a unique expression of My life in you. What you have done in the past is not necessarily wrong, but you have outgrown some aspects of your representation of My kingdom much the same as you would outgrow a pair of shoes. It is time for you to move into bigger spiritual shoes, but not too big. You will know when you get the right fit. Your walk in the kingdom requires some new things, more expansive concepts and ideas, a willingness to move out of what has been comfortable and familiar. Do not fear the unknown, for I have always led you and directed your steps. I am certainly not leaving you on your own now. Haven't I said that I will never leave you nor forsake you? Trust Me.
Your Peace Will Come From Me
I have called you in your uniqueness, and I can use you in ways and in places in which no other could serve. You are in a time when your sense of security is shaken, for you are moving into new spiritual territory, which is unfamiliar to you. So, do not give in to the temptation to find a place of comfort by trying to go back to what is familiar and comfortable. In doing so, you would move out of your place of anointing. You must also resist the temptation to get settled with the next new thing that comes along. Seek to stay in My presence and to walk in the Spirit. I will surely lead and guide you, and your peace will come from Me. Otherwise, you will seek fulfillment in the flesh. "Be still and know that I am God."
I Am Your Security
Come into My peace and rest. I have called and chosen you for such a time as this, but I will do the work as you yield to My leading and guidance. When you step out on your own, you will find yourself afflicted with a strong dose of insecurity, accompanied by a lot of clamoring and noise, and you will find yourself entertaining covetousness and jealousy as you measure yourself and compare yourself with others. So, rise up out of carnality and rest securely in My presence. I am your place of safety and your high tower. Come into the secret place of the Most High.
Rest And Be Refreshed
You have become scattered in your thinking and in your devotion and separated from one another. Loss of focus will cause you to become divided in your intentions and purposes. Then, you will become one of those broken cisterns that can hold no water. You won't know whether to go forward or to pull back, to sit down or to stand up, to shut up or to speak. You may even question what I have spoken to you, saying it probably wasn't the Lord. You feel abandoned and forsaken, and yet I have not left you. Come back from the waste places where you have been driven, scrambling around like creatures of the night in the desert. Come and rest. Be refreshed in My presence.
I Speak To My Remnant People
I speak to My remnant people and tell you that the seed will sprout and grow, and the vine will give her increase, and the heavens will drip with dew, and I will cause you to prosper and take possession of all that I have assigned to you. You shall surely receive your inheritance and bring glory to My kingdom. Though you have been cursed and without honor in your own country, yet I will make you a blessing among the nations. I shall restore to you what has been stolen. Strengthen your hands and do the work that I have set before you, for I have placed you in My stronghold, My place of refuge, and I will protect you there. Be at peace, and do not be afraid.
Silence Is Appropriate
The storms have raged around you so that you have learned to survive in high winds and adverse conditions. You have braced yourself against the pressure and learned to shout over the noise of the onslaught. But, I am asking you to quiet your soul and discern the times. Soon the winds will cease and the storms will have blown over, and when they cease you must rest and be refreshed. If you do not discern the conditions around you, you will continue to brace yourself in anticipation of the next storm. And you will still be shouting when only silence is appropriate. Come into My secret place and abide under My shadow, for I am your refuge and fortress, your place of peace and safety. I will cover you. Come, be still and find refreshment for your soul.
The Sabbath Rest
I had a vision of a pitcher of milk, and as I watched, I saw the cream rise to the top. And the Lord said that many have filled themselves on the richness of My word and have become enriched in My anointing. Just as the separation of cream from milk is a natural process, I tell you that you will go through a further separation process by which you will supernaturally be separated from that which is ordinary to rise up spiritually into greater anointing. Just as that process has nothing to do with anyone's personal effort, so this process will take no effort on your part except to be at peace and yield. This is indeed the Sabbath rest.
You Must Rest In My Presence
You are entering a time where your life will absolutely explode with diversity. You are going to break out of old molds that have confined your gifts, talents and abilities. Dreams and visions that were once extinguished by discouragement and lack of opportunity will now become revitalized. I tell you that you are in a season of resurrection power. What has been dead and buried will now spring forth with new life and take on new meaning. Be warned, however, that you cannot do this by your own volition. That which is being raised up will be by My power, not your will or coercion. You must rest in My presence, for I am the resurrection and the life and what I speak life into shall live! What I bring to pass shall be established.
Hush The Clamor
Quiet your soul and allow your spirit to be strengthened. Hush the clamor of thoughts and emotions that cause inner turmoil. Cast out the fear that causes agitation and unrest, and be at peace. For truly I am your place of rest, your safe haven, your shelter in the storm. Come to Me and calm yourself so that you can hear even My most gentle whisper. Come, for I am the comforter, and I will fortify you with tranquil boldness that will pull down strongholds and scatter the enemy with a word. Be strong in the Lord and in the power of His might!
Peace By Peace
As I direct your steps revealing one piece of your life at a time, I will also guide you one peace at a time. I say again that I will lead you peace by peace. Have I not said that My word is sharper than a two-edged sword and will bring a separation of soul and spirit? This peace that I give you will not be measured by what you know or feel or want, for that is the realm of the soul. The peace that I give will quiet your soul and produce a sense of security in your spirit, for My peace surpasses understanding and will guard your heart and mind. Be still, then, and walk in the quiet assurance that I will move you by My Spirit into the days ahead. Do not be afraid, for I am with you.
Spiritual Stability
Some of you feel like you have been on a roller-coaster ride. Your emotions have taken you up and down and around until you are dizzy and disoriented. It is time to get off of that ride and come to a place of spiritual peace and stability. Your soul (emotions) must come under the authority of My Spirit so that you no long walk by how you feel. You must walk by faith and by the truth of My word. Quiet your soul. Come to Me and be still. Rest in My presence. Psalm 131:2, "Surely I have calmed and quieted my soul, like a weaned child with his mother; like a weaned child is my soul within me." Weaned: Detached from a source of dependence; freed from an unwholesome habit.
My Peace I Give You
I sit calmly in My heavenly estate. There is no anxiety in Me at all. Why, then, do you fret and worry? Haven't I said that I would abide in you and you in Me? Where is your faith in My word? All things work together for good to those who love Me and are called according to My purpose. Do you think worry and anxiety will change things to meet your comfort level? Why not just trust Me? I will perfect those things that concern you! My peace I give you.
Elevate Your Thinking
Be at peace! Refuse to be drawn into the turmoil of doubt and confusion. Rise above the cares of the world. Elevate your thinking from things below to things above. Do not let the enemy draw you into self-examination. Trust Me to examine your heart and to bring conviction and clarity. I will not only reveal your sin, but I will show you the way out!
Cease From Your Own Labors
In a dream I had gone to see my brother at an apartment complex. As I stood before the door of his apartment, I saw a hand that had been cut off at the wrist lying on the walkway. It had a nail hole in the middle of the palm. I picked up the hand and was deeply distressed. When my brother answered the door, I wanted him to call someone in authority because I believed that if there was a dead hand there had to be a dead body. My brother was very nonchalant and said, "Oh, that's been here since September."
Interpretation: Going to see my brother at his apartment complex symbolizes looking at the Christian community sectioned off by denominations (divided and numbered). The hand with the nail hole represents dead religious works. The authority is the Spirit of God. The unseen dead body represents the complacent religious church, accentuated by my brother's indifferent attitude. September is usually the time of the Feast of Trumpets, the beginning of a new spiritual year.
And, the Lord said: I will indeed cut off the dead works from My body. For whatever does not issue forth from My Spirit and come to completion by My power is dead. The days of accomplishing your own works and achieving your own plans and desires in the name of religion are over. This is a new day--the day of resurrection power. It is a day when you must come into My rest and cease from your own labors. Arise from your own dead works and be led forth in power and might into this new day.
Quiet Your Mind
Listen up! Quiet your soul so that you can hear My still small voice in your spirit. My ears have not been deaf to your cries, nor have I been unaware of your dilemma. I am a God that hears and answers prayer. I am speaking into your circumstances and imparting wisdom into your situation, but the noise of fear has obliterated this impartation. Only when you quiet your mind and emotions will you be able to receive the answers and direction you require. Be still, My child. Let me soothe your troubled soul and alleviate the turmoil, for you will assuredly regain composure. I speak into you even now...Peace, be still! Come into My rest and comfort.
Cooking Up Trouble
In a vision I saw a woman preparing something from a recipe, and I asked the Lord what she was making. His answer was "trouble." The main ingredients were fear and control. Add a little pride, and when it gets heated up, it will cause a minor explosion. The Lord says that many of those who stir up trouble just won't leave other people alone, but consistently try to control them by putting pressure on them to make changes, and they are always cooking something up--never any peace. To those who make trouble, He says, quiet your soul. Come into a place of peace and rest in My presence. Proverbs 28:25 He who is of a proud heart stirs up strife, but he who trusts in the Lord will be prospered.

Chapter 4
LONGSUFFERING...
Face This Fear
When the enemy is attacking you with breakdowns and difficult situations, it is his effort to immobilize you with fear, discouragement and hopelessness. The devil's greatest weapon against My people is the threat of financial ruin. Your greatest temptation is to run and hide to escape your trouble. But, I have not left you, nor have I forsaken you. I have brought you through tough times and I will do it again. Refuse to allow the spirit of fear a place of torment in your heart. Stand up and face this fear with courage and boldness. Ask, and I will give you wisdom in dealing with every situation.
Ephesians 6:10 Be strong in the Lord and in the power of His might.
Refuse To Be A Victim
Prepare for release and change. I have call you out and am sending you forth to accomplish My purposes. Yet, I cannot send you encumbered with all that binds you and keeps you from being available to do My will. Give up all bitterness, resentment and pride. Refuse to be a victim by wallowing in hopelessness and self-pity. Rise up in My strength and power. Release yourself to My purposes. I am pulling out the stops that have hindered your progress, but you must first let go of the past.
Philippians 3:13-14 Brethren, I do not count myself to have apprehended; but one thing I do, forgetting those things which are behind and reaching forward to those things which are ahead, I press toward the goal for the prize of the upward call of God in Christ Jesus.
Stay Steady
Watch out! Here comes discouragement and heaviness to keep you out of the flow of My Spirit and cause you to feel like a fish out of water with a sense of displacement and a feeling of inadequacy. Refuse to yield to this confidence crisis. Stay steady. This cloud of discouragement is like a spring storm, which will move through quickly. All you have to do is not get caught up in the force of its movement or overreact to your feelings. There are some changes you need to make, but you must wait until this storm passes by. The enemy wants you to act hastily so that you will miss the mark of solid direction, instruction and wisdom.
Ephesians 6:10-11 "Finally, my brethren, be strong in the Lord and in the power of His might. Put on the whole armor of God, that you may be able to stand against the wiles of the devil."
Come to Me For Inclusion
I see the hearts of those who feel alone and isolated, but I say to you that I am raising up all who will come to Me for inclusion. I am bringing My remnant together in the Spirit and binding them together for My purposes. I am uniting the hearts of people who desire to be one with Me. I am surely bringing My body together and placing each one in proper order for My purposes according My pattern.
Hebrews 12:12-13 Therefore strengthen the hands which hang down, and the feeble knees, and make straight paths for your feet, so that what is lame may not be dislocated, but rather be healed.
Higher Ground
I am leading you to higher ground and bringing you to a place undefiled. But, I cannot take you there until you have gained the victory where you are. There are those who have gathered against you with a hope that you will be defeated and with a heart to see your demise. They arise against you with a vengeance, but they do not know My thoughts, nor do they understand My counsel. I have made your forehead like flint and have armed you with a strong bow. I have caused your feet to be shod with bronze, and your enemies will be broken in pieces. Fear not, for I have a plan and a purpose that cannot be thwarted. Your enemies will look upon your triumph and know that the Almighty God has been among them, and they shall be greatly ashamed.
Strengthen Your Resolve
Be still! Refuse to dump down in flesh reactions to the challenges of your circumstances. This is a time of testing, but you can easily come through this trial if you will strengthen your resolve to do My will and be obedient to My word. Give no place for the enemy's condescension, but stand firm in the face of adversity knowing that I am with you and for you. For, certainly I will walk you through this valley and bring you to victory. Don't lose sight of your vision!
I Have A Greater Plan
Things are not as they seem. I said, things are NOT as they seem. Have I not given you a faith that has been tried in the fire and come out like gold? The issue that you face now is a matter of whether or not you trust Me. I already know the beginning from the end, and I can tell you that I have a plan that far exceeds what you originally intended. Let go of your small plans and colorless dreams. I have a greater plan, and I am able to do exceedingly abundantly above all that you could ask or think. What is your part? To believe! Rise up in the faith that I am perfecting in you. Go forth in the confidence that I am bringing to pass My intentions for you. Submit to Me, and let Me lead and guide you through this maze. I have begun a good work in you and will complete it. Trust and obey!
Magnetic Poles
I have spoken to you that My people would draw others to Me as a magnet draws tailings. You will now begin to see more clearly the manifestation of this promise. I am doing a mighty work, and even as magnetic poles both attract and repel, so will you attract those whose hearts are open and repel those who persist in stubborn rebellion against Me. Spiritual attractions will become stronger, but so will spiritual repulsion. Don't be surprised when others react to you in either extreme--love or hatred. What you must understand is that this is spiritual, so you need to resist the temptation to get personally and emotionally involved in either case. This work is greater than your soul; it is a spiritual gathering and scattering.
The Trial of Your Faith
Haven't I said that the trial of your faith would produce perseverance? I have brought and allowed the current tests so that you can learn to trust Me. You will learn obedience by the things you suffer. Don't get discouraged by the things you face and the obstacles you must overcome. I will strengthen and enable you to overcome. Trust Me. Put your faith in Me!
James 1:2-4 My brethren, count it all joy when you fall into various trials, knowing that the testing of your faith produces patience. But let patience have its perfect work that you may be perfect and complete, lacking nothing.
Do Not Give Up!
To those who have been left shocked and shaken as the result of the storms you have just endured, stop and take a deep breath. Survey the damage, clean up the mess, and begin again. This is not the end of life. This is not a time to give up. This is only the end of a cycle of testing. Don't allow life's tests to harden your heart, but rather allow them to be a catalyst to further strength and resolve. Let your faith come to a new level of trusting Me to perfect those things that concern you. This has also been a time of cleansing and purging. Let go of those things which have kept you from your fullness in Me. When you release your own plans, wishes and desires to Me, then the hindering forces arrayed against you will be removed.
The Seed Is Still In The Barn
I am bringing new life out of the ashes of the past, much the same as the new life that springs up after a forest fire. The old is destroyed, but the land still produces life because the seed has been planted. So, I say, do not despair at what seems to have been destroyed, even as by fire. Haven't you been through the fires that have purged your heart from dead works? So now, watch for life to spring up in new ways. Haggai 2:19 "Is the seed still in the barn...from this day forward I will bless you."
This Is A Solitary Mission
You have lifted your heart like a massive sail to be moved by the wind of My Spirit. You have sharpened your focus and attuned your ear that you might be an instrument of My leading. You have even accepted the fact that this is a solitary mission, and you have pulled away from the crowd to abandon yourself completely to My purposes. And, indeed, I will be moving you along at a good clip. But, I say, watch for those around you who would try to anchor you to their fleshly desires. They will say that you are too radical and will try to reason with you to have some "common" sense. They will label you and even try to bring shame to your mission by casting a shadow of doubt on what I have called you to do. If I was an outcast, shall you not be also, inasmuch as you have taken up your own cross to follow Me? I say, cut the anchors and gather the Wind. My purposes have been established and your course has been set.
Do Not Let Go!
I have given you great and precious promises. And what I have promised I will bring to pass if you will but hold on and believe. However, the enemy has come to steal your hope and cause you to doubt what I have spoken to you. You are becoming weary of hanging on, and the temptation will come for you to let go of all that you once held dear and abandon what I have promised. But, you have need of endurance. You must renew yourself in spiritual vision and strength. Reassure yourself by bringing to remembrance what I have confirmed to you. Do not let go, or it will be lost.
Hebrews 10:35-38 "Therefore do not cast away your confidence, which has great reward. For you have need of endurance, so that after you have done the will of God, you may receive the promise: For yet a little while, and He who is coming will come and will not tarry. Now the just shall live by faith; but if anyone draws back, My soul has no pleasure in him."
Set Your Face Like Flint
I am bringing you to a place of a new beginning. Old things have passed away, and yesterday is gone. What's done is done, whether good or bad. Prepare yourself with excitement to move forward in the things of My Spirit. I have given great and precious promises. Leave the past behind, and set your face like flint to go up to your place of destiny. For, surely I will lead you and direct your steps. I will establish you in peace and guard your safety. Your journey will not be without testing, but I have taught you well, and your victory is assured.
2 Peter 1:3-4 "As His divine power has given to us all things that pertain to life and godliness, through the knowledge of Him who called us by glory and virtue, by which have been given to us exceedingly great and precious promises, that through these you may be partakers of the divine nature, having escaped the corruption that is in the world through lust."
Your Destiny
I exhort you to consider your strengths, your gifting, the things you CAN do. The enemy would try to get you to meditate on your shortcomings and failures and the things you cannot do, for he would love to drown you in a sea of despair. By the strength of My Spirit, I have equipped you for certain tasks in My kingdom, and you have been in training for that which is ahead of you. Believe Me when I tell you that you have been in training since you were a child for the things that have been prepared for you. The times in your life that you found difficult to endure became a place of instruction, for truly all things work together for good to those who love Me. I will not ask you to reach beyond your ability to achieve My desired goals for you, but I will cause you to stretch and go beyond your experience to accomplish more than you ever have. Your destiny awaits!
Patient Endurance
I speak to those who are extremely sensitive and creative. I am aware that you have been misunderstood and that you have never seemed to fit in. I know of the rejection that you have endured from time to time, but I also see your patient endurance in continuing to glorify My kingdom despite the opposition. Consider My servant, David, who was also very sensitive and creative. He was misunderstood by his family, despised by his wife, rejected and pursued in his time. Yet, I used him to raise up the Tabernacle of David as a place of worship because his heart was after Me. I tell you the truth, I will build again the Tabernacle of David, which has fallen down, and I will restore the ruins. Haven't I said that those who worship Me must worship in spirit and in truth? But, the church is in ruins because the people have worshiped Christianity and the religious system. They have allowed the money-changers into the temple, and it is no longer a house of prayer; it is a house of religious business. But you, like David, do fit in My kingdom and have been chosen for such a time as this to restore true worship. Take courage, and do not despise your days of small beginnings.
Testing Ground
Beloved, I have allowed difficult circumstances as a testing ground and even a sort of mirror so that you can see yourself in action. You have been given many and varied opportunities to grow up in all things in Christ. I am bringing you to greater spiritual maturity and giving you occasion to be tested so that you yourself can see the application of this growth in action. For, I have called you to mortify the deeds of the flesh by the Spirit.
1 Corinthians 13:11 When I was a child, I spoke as a child, I understood as a child, I thought as a child; but when I became a man, I put away childish things.
Divine Discontentment
I am leading you out of that desert place that has seemed so dry and aimless. I am releasing you into divine destiny, for I have certainly chosen you and called you. I am anointing you and bringing you into the position of fulfilling your purpose in these times. Your sense of boredom is because you are still unfulfilled and dissatisfied. And that is because I have allowed divine discontentment. I have greater things for you to do. Watch and be amazed at the opportunities that I am releasing into your life. Get ready, for those I choose and call, I equip and supply. Do not fear, for I will direct your every step. Rise above all self-interest and selfish desire, for I am calling you to stand in your place of destiny.
Wait For Me
I have loosed you into some powerful and exciting possibilities, and yet you must not rush out ahead of Me. You have been given a taste of what I will bring to pass and an idea of where I am taking you, but you have not been this way before. You need to wait for Me to lead. Hold My promises in your heart and prepare yourself for what is ahead. Patiently wait for Me. I have begun this work in you, and I will complete it. Don't run ahead on your own; stay in the flow of the Spirit.

Chapter 5
GENTLENESS AND KINDNESS...
I Will Lead You Out
I am opening the way for you to go forward, and I am enlarging the place of your habitation. Those hindrances that have held you back and kept you from moving forward are being removed. You have been at a standstill, but now is the time to go ahead. I have opened doors and made a way. So, be strong and resolute. The time and seasons are at hand, and I will lead you out in My perfect timing. Trust Me and yield to My gentle touch.
Isaiah 45:2-3 "I will go before you and make the crooked places straight; I will break in pieces the gates of bronze and cut the bars of iron. I will give you the treasures of darkness and hidden riches of secret places, that you may know that I, the Lord, who call you by your name, am the God of Israel."
I Am Bringing You Through
I am a merciful God, and I look upon you with tenderness. Yet, My hand is upon you to prepare you for My coming. I must take you through a cleansing process and sanctify you wholly. Though your trials are grievous at times, don't forget that I am bringing you through to greater heights with love and compassion. I am indeed a God of goodness and severity, but My severity only extends to those who are willfully disobedient, who have hardened their hearts against Me in rebellion. Let My love bring hope as you leave behind all thought of despair and discouragement. I am with you to strengthen you and bring you into My perfect will.
Jeremiah 29:11 "For I know the thoughts that I think toward you, says the Lord, thoughts of peace and not of evil, to give you a future and a hope."
You Shall Not Be Put To Shame
I have prepared you for the refining process. What you have been going through isn't what you had envisioned to be the cleansing process of the bride for the Bridegroom. But I am coming for a church without spot or wrinkle, a holy people without blemish. You might have had a vague understanding of that process, but now you KNOW it. I have trusted you with a Job experience, and even though you knew of Me, now you have truly seen Me. And, I will restore what the enemy has stolen. In fact, I will restore the years that he has stolen, for you shall not be put to shame. Rise up and take courage in this day of preparation.
More Of Me
I am gently but persistently bringing you to clarity and sharper focus. You will develop greater discernment, which can only come as you see less of yourself and more of Me. You are in the process of dealing with the log in your own eye that prevents clear vision. This is also a work of judging yourself.
Luke 6:41 "And why do you look at the speck in your brother's eye, but do not perceive the plank in your own eye?"
1 Corinthians 11:31-32 "For if we would judge ourselves, we should not be judged. But when we are judged, we are chastened by the Lord, that we may not be condemned with the world."
Feeling Like A Maverick?
So, you still feel like a maverick, a motherless calf? Yet I have established your boundaries and have not left you alone. I have expanded your sphere of activity, and it doesn't feel like you fit, but you do. I am releasing you to explore and occupy your new territory. Move with the flow of My Spirit. Do not insist on maintaining old boundaries and personal comfort. Refuse to allow fear or uncertainty a place in your heart. Just be still and know that I am a merciful God. Let Me lead you by the hand and direct your every step.
Isaiah 54:2-3a "Enlarge the place of your tent, and let them stretch out the curtains of your dwellings; do not spare; lengthen your cords, and strengthen your stakes. For you shall expand to the right and to the left, And your descendants will inherit the nations."
Your Very Present Help
Have you forgotten that I came to change your life? I can and will rescue you from every pit that you have fallen into. I have the power to deliver you from every dilemma and heal your every wound and disease. I want to heal your broken heart and gather you to My safe refuge. But, you must cry out in earnest and come to Me. I speak to those who are standing alone against the winds of adversity and those who feel alone without help. I am your very present help in times of trouble. I will lead you out of hopelessness and despair. I will gently restore you to peace. Come!
You Can Stand On Me
I speak to those who have been pummeled with feelings of insecurity and rejection. You have had trouble finding any solid ground on which to stand. But, I am the solid Rock and you can stand on Me. That Rock is the Word, for I am the Word. You can stand solidly on the truth. Your spirit is still intact and sealed for the day of redemption. It is your soul, your emotions that have come under this attack of insecurity. Rise up out of the soul realm and stand securely in the realm of the Spirit. Refuse to be sucked down into depression and discouragement. Trust Me to gently restore and strengthen you. Though you struggle in darkness, I stand ready to rescue you and establish you in pure light. Let Me.
Spring Thaw
Flow! I say, flow in the streams of My Spirit. I am speaking to those who used to move freely in the realm of the Spirit and delight in spiritual life. You walked unhindered in the joy of My presence. However, religious spirits have shackled you and caused you to be as barren as winter, and your streams of life have frozen like a mountain stream. You must come into the sunshine of My love and the warmth of My mercy, favor and grace. Come to Me with purity of heart. Come let us commune together and enjoy fellowship. It is in My presence that life will begin to flow again like the spring thaw. Come!
Encourage One Another
Check your seed. What kind of seeds are you sowing? Are you sowing strife and contention? Are you sowing seeds of discord? I have called you to sow the word of God into your heart and gently into the lives of others. Have I not said that death and life are in the power of the tongue? Evaluate your seed, for you will be held accountable for every unproductive word you speak. I want you to encourage one another. Speak words that bring life.
Matthew 12:36-37 "But I say to you that for every idle word men may speak, they will give account of it in the day of judgment. For by your words you will be justified, and by your words you will be condemned."
Turn The Other Cheek
I have sent purifying fires among you. It is not so much your motives that need purification as it is your reactions. You have been faced with fiery opportunities to react either with hostility or kindness and gentleness, in the flesh or by the Spirit, in defensiveness and anger or in love and forgiveness. You have had prime opportunities to pout or pray, retaliate or turn the other cheek. Today is a new day. Choose to forgive and release those who have come against you. Bless those who have cursed you. Pray for those who have set themselves in opposition to you. This is true victory.
Abandon To My Plans
Completely abandon to My plans and purposes, for you can never achieve anything in My kingdom through your own designs and objectives. Remove yourself from the equation along with your selfish motivations. I tell you that this is not about you. It is about Me and My intention for My people. My ways are higher than your ways, and My thoughts are higher than your thoughts. Refrain from designing your own schemes and asking Me to bless them, but rather yield to divine order. What I have designed is already blessed. Seek to understand My vision and then move ahead to fulfill what I have called you to do. I will direct your steps if you will but yield.
Harmless As A Dove
When you first approached My face there was a softness and childlike innocence about you. You walked softly in fear and trepidation. You came in expectation and wide-eyed wonder. But now, you come with a hardness that has developed through the difficulties you have endured and the wars you have fought. You are no longer a child but a warrior, and you have made your forehead like flint to stand against rebellion. This has all been in My will, but now I want to transform you yet again to walk softly and in gentleness. This time it won't be in innocence; it will be in purity and with wisdom. No longer will you clamor in self-defense and debate in battles of the flesh. Your battles will be in spirit against spiritual hosts of wickedness in heavenly places. I am equipping you for greater and more effective warfare, which you will carry on with quiet assurance and great skill. You indeed will be wise as a serpent and harmless as a dove.
It Is Time To Soar With Me
I have surrounded you with protection like a mother bird protects her young. I have raised you from your time of infancy in My nest, and I have fed you. You have watched Me go and come as a bird would fly away and come again, and you have enjoyed sweet fellowship with Me. You are no longer bound to the nest. Rise up with the wind beneath your wings and fly with Me to experience what you have only been able to observe from your place of safety. There is greater risk, but there is also greater benefit. I will show you things and use you in ways you never thought possible. You say, how will I do this? I will teach you, and all I require is your willingness. I will accomplish this in you. Watch! I am about to do a new thing with you.
Get Ready To Move
I have made a wide path for you to come into greater knowledge of My word--more revelation. I am opening your eyes to see more than you ever have, and I am preparing you and equipping you to accomplish My will. What is that work of preparation and equipping? You will open your heart and I will prepare it. You will begin to walk and I will direct your steps. You will open your mouth and I will fill it. I will fill your mouth with words of wisdom that have the power to convince and convict. You have camped long enough at an old, stale watering hole. I want to bring you to fresh streams of living water that will cause new life to spring forth. Get ready to move forward.
His Mercy Endures Forever
I honor you in thanksgiving. I lift you up in your praise. When I am lifted up, I draw you to Myself. Refuse by resistance to let the enemy pull you down into despair, hopelessness and negativity. Stand in My strength and be thankful, for My mercy endures forever. I am your strength, your fortress and your high tower.
New Level Of Freedom
A number of years ago we had a family of bluebirds build a nest in a birdhouse in our front yard. It was so much fun to watch the entire process of the birds raising their new family. On the day that the five fledglings left the nest, Mama and Papa bluebirds stopped feeding the young ones and sat outside on a power line calling to their offspring. The young birds, one by one, would peek out, lose their nerve and go back inside the birdhouse. Finally, the bravest (or the hungriest) of all hopped out on the perch and flew up to join the parents. The next three followed shortly thereafter, but the fifth little bird refused to leave the nest. The Papa bird began to teach the first four how to hunt and feed themselves while Mama bird kept calling to the reluctant one. After half a day of watching this process, I could stand it no longer. I took the front of the birdhouse off so the last little bird could see his Mama. But, he had his eyes shut tight and his little head buried in the corner of the nest. He finally did join the rest of his family, and I suppose lived happily ever after.
I pondered why I would be reminded of this event, and I heard the voice of the Lord: "You are about to move into a new level of existence and freedom. You will begin to see and enter the reality of your purpose in My kingdom to fulfill what I have called you to do. Come forth, hear My voice, and follow My leading. Even though you will be a more visible target for the enemy, I will also give you the ability to see the attacks coming and the wisdom to escape. Do not be afraid; I will be with you, directing you. I will open up new realms of glory and greater vision. You will soar to new heights spiritually as you follow Me."
This Is A New Day
I have wiped your slate clean. Your past is behind and forgiven. It is finished. Your future is in My hand to unfold in its time and season. But, I ask that you walk with Me today, here and now, with thanksgiving. I have brought you to this point so that you may bring glory to My kingdom. I delight in your heart of obedience and dedication. Today, I set you free from burdens of guilt and shame and failure. What will you do with the rest of your life? Will you live for yourself or honor Me? Begin again. This is a new day.

Chapter 6
GOODNESS...
Chicken-Pen Existence
Rise up. I say, rise up! I tell you that you have been pecking around in your chicken-pen existence long enough, pecking around in the dirt, scratching around in your earth-bound reality with a near-sighted view of life. I have not called you to cackle and peck at one another. I call you to be eagles who will soar high above the earth into the realms of glory. I call you to rise above petty issues, offenses, and reactions that keep you bound to the earth. Do good, and leave behind your selfish interests and motivations, jealousy, envy, strife, contention, division and worry. Rise up and seek My face where vision is clear and the air is pure.
Isaiah 40:31 "But those who wait upon the Lord shall renew their strength; they shall mount up with wings like eagles, they shall run and not be weary, they shall walk and not faint."
Spiritual Reality
I have given warning in My word that you should not forsake the assembling of yourselves together, especially as My Day approaches. But, I say that a great number of you have become enamored with coming together. It has become a social event. And instead of a coming together to seek Me and renew your heart in spiritual reality and unity, you have become fascinated with your programs and methods. You are like children showing off for one another. You have learned to love the ministry instead of loving Me. This is nothing but religious exercise. Where is the evidence of your relationship with Me? Where are those who worship Me in spirit and in truth? This is the picture of the lukewarm church, and I will indeed spew you out of My mouth unless you turn from this wickedness. Be zealous, therefore, and repent.
Awaken Out Of Your Slumber
Come out of the world, and do not touch what is unclean. You cannot drink of the cup of demons and the cup of the Lord. I speak to those who have slipped back into old ways and gone back to old patterns of living and thinking. I remind you that you have been washed by the blood and sanctified. I have called you out to become a citizen in My kingdom. I call you to awaken out of your slumber. Refuse to be allured by the world or give in to the works of the flesh. Don't you remember what it was like to be clean and to stand in purity before Me? Do not go back to wallowing in the mire.
1 Corinthians 10:21-23 "You cannot drink the cup of the Lord and the cup of demons; you cannot partake of the Lord's table and of the table of demons. Or do we provoke the Lord to jealousy? Are we stronger than He? All things are lawful for me, but not all things are helpful; all things are lawful for me, but not all thing edify."
Those Walls Also Keep Me Out
I speak to you who have built a fortress for yourself because you have become offended. You build high walls to keep those out who have hurt you. But those walls also keep Me out. You have isolated yourself so that even your relationship with Me is but a memory, for you have hardened your heart with anger, contention and defensiveness. Tear down this stronghold and break down the barriers that have come between you and Me. You have violated your own conscience through unforgiveness and bitterness. Rise up out of this fortress of self-pity and release yourself from this prison. Forgive those who have sinned against you so that you can be restored.
Changing You Into My Image
Do you see the work that I am doing in your heart? It seems very subtle to you, but indeed it is very profound. When you truly yield your heart to Me, you are changed day by day as I cause you to be aware of your motivations and attitudes. I cherish your honesty and your repentance for the things that have held you back from vital, intimate relationship with Me. I have sent forth a cleansing, healing stream that will wash away all the debris of the past and bring restoration. This is a work of holiness in you, for I am changing you into My image. Release yourself to this work of deep repentance. This must take place before the rivers of living water can come forth from your innermost being. It is a sacred work.
I Caution You
I caution you to stay in your places of safety. Refuse to be tempted out of boredom and discontentment to leave the place where I have planted you and protected you. The enemy will try to lure by your curiosity into places where you will be unproductive, where you will be mocked and scorned. The torment will be greater than you are willing to endure, and getting back to safe habitations will be difficult, if not impossible. Involvement with ungodly situations and relationships will lead you away from your place of safety in Me and will put you in great danger. Do not touch what is unclean.
Revelation 22:15 "But outside are dogs and sorcerers and sexually immoral and murderers and idolaters, and whoever loves and practices a lie."
A Greater Promise In Me
These are days of great sighing. I hear your sighs of weariness and grief as you yearn for things to be different. You long for the fulfillment of broken dreams and unsatisfied hopes and desires. But, you must leave the proverbial fleshpots of Egypt before you can inherit the Promised Land. There is a greater hope and a greater promise in Me. Come out of the world and put to death the deed of the flesh so that you can live in the Spirit. Come out and do not touch what is unclean. For, if you sow to the flesh, you will reap corruption, but if you sow to the Spirit, you will reap everlasting life. I am calling you to invest yourself in those things which have eternal value. Invest in the Kingdom of God and not the kingdoms of the world.
Be Part Of My Plan
I speak to you of purpose. My purposes have been established on the earth, and you have daily opportunities to either come in line with My purposes and be part of My plan, or to refuse and do your own thing. When you choose to go your own way and disregard the plan of life, you will ultimately come to destruction. You are so clever at justifying your disobedience, but it all comes down to unbelief. If you truly believed My word, you would do My will. Those who have chosen their own way have been fit with blinders and cannot see clearly because of the veil over their hearts, and they are deceived. Arise to the fullness of My will and purposes. Yield to My leading. Trust and obey.
Seek My Face
Do you know it? I am making available greater revelation of the depth of My word. I am opening your heart to hear, receive and know the mysteries of My kingdom. If you will only seek My face with a hunger and desire to know, you shall be filled and satisfied. If your understanding has been unfruitful, break up the fallow ground of your heart. Plow up the ground of stodgy, religious dogma, which keeps you from fresh revelation. Let Me rain down My glory upon you and give life to a dry and thirsty land.
Hosea 10:12 "Sow for yourselves righteousness; reap in mercy; break up your fallow ground, for it is time to seek the Lord till He comes and rains righteousness on you."
A Day Of Justice
This is a day of reckoning. It is time to settle accounts and pay what you owe. For this is a day of justice, and what is left of your balance must be paid. I speak in terms of moral and spiritual integrity. Those things that you have hidden and swept under the rug, so to speak, will be exposed. Those things that you have not repented of and turned from will demand settlement.
Matthew 3:8 "Therefore bear fruits worthy of repentance."
No Compromise
These are times of great consternation on the earth, but I have not called you to fear or dread. I have positioned you and will continue to position those who are Mine in places of safety and security. What I require of you is to live without compromising My standards, My word. As the darkness of the world becomes gross darkness, you will shine forth and radiate as a beacon of light and truth. Those who have lurked in the shadows of complacency will then be drawn to your light like moths to a flame. But, I tell you the truth, the days are coming and are even now upon you when those who love the darkness will be plunged into pitch-darkness, and those who love the light will become radiant.
Let Me Wash Away All Defilement
Today is a new day. Let Me wash away all defilement. You have been defiled by things that have been communicated to you. Consider where you have been and what you have allowed to come into your being by the words, attitudes, and motives of others. Also consider the things that you have spoken that have not been edifying. Repent. Turn from speaking idle words, for surely you will give account in the day of judgment. Come to Me for a cleansing, and I will indeed wash you and make you whiter than snow. I will remove the filth from you. Let Me take the subtle feeling of embarrassment from you and restore you. Let all things hidden be brought fully into the light and revealed, for this is righteousness.
Psalm 51:1-4 "Have mercy upon me, O God, according to Your lovingkindness; according to the multitude of Your tender mercies, blot out my transgressions. Wash me thoroughly from my iniquity, and cleanse me from my sin. For I acknowledge my transgressions, and my sin is always before me. Against You, You only, have I sinned, and done this evil in Your sight; that You may be found just when You speak, and blameless when you judge."
Only See Me
When I ask questions of you, it is not that I don't know the answers, but rather that I am revealing your own heart to you. When I ask, "Do you love Me?" I already know that you do, but what I want you to consider is how much you love Me. Are you willing to lay aside all that you hold dear to serve Me? Are you willing to put down your own desires, wishes and agendas and do My will? Are you willing to die to the flesh that you might live in the Spirit? You have desired to move in the power and gift of the Holy Spirit, but unless a grain of wheat falls to the ground and dies, how can it yield its increase? My desire for you is that you would become an empty vessel, a clay jar, that I can pour into and out of as I will. And, I want your "jar" to be so clean and free of fear, jealousy, bitterness, pride, lust and the like that whatever I pour through you will not be tainted by your vessel. If you will yield yourself totally to Me, I will cleanse you to that degree, and then you will not even notice the pouring in and the pouring out, nor will your eyes be set on the increase. Your eyes will only see Me.
Standard Of Integrity
I have raised up a standard in your midst. It is a standard of righteousness and holiness. I have shown you by example and set in My word the model of kingdom authority. I call you to follow the example that I have set and to yield only to My authority, and to establish that same authority in your life and circumstances. Do not compromise or devalue your citizenship in My kingdom. Refuse to compare yourself to those around you, but rather measure yourself according to My standard of integrity. This is a day of reckoning, a time to reckon yourself dead to sin.
Romans 6:11-13 "Likewise you also, reckon yourselves to be dead indeed to sin, but alive to God in Christ Jesus our Lord. Therefore do not let sin reign in your mortal body, that you should obey it in its lusts. And do not present your members as instruments of unrighteousness to sin, but present yourselves to God as being alive from the dead, and your members as instrument of righteousness to God."
Release Your Issues To Me
I have wonderful things to show you and glorious things to share with you, but you cannot discern My ways or hear My voice when you are focused on the petty issues of life. Refuse to allow the problems that have robbed your peace to take dominion over you. Forgive those who have trespassed against you, and release those who have offended you. You cannot be at peace with Me until you remove yourself from division and contention. Stop striving and release your issues to Me. You cannot establish peace and continue in strife. Relinquish those issues and set your heart on Me.
John 14:27 "Peace I leave with you, My peace I give to you; not as the world gives do I give to you. Let not your heart be troubled, neither let it be afraid."
Abundance Of The Heart
I want to remind you, My beloved, that as long as the earth remains there will be seedtime and harvest. Be aware that you continually plant seeds and reap the harvest. For, whatever a man sows, that he will also reap. The seed is the word. I ask you to examine the words that you sow into your own life and into the lives of others. Are you planting words of truth that will bring forth a harvest of life? Out of the abundance of your own heart, the ground of your harvest, your mouth will speak words of either life or death, blessing or cursing. You will become weary of reaping the same old harvest of division, strife, contention, fear, rejection, jealousy, discontentment, disappointment, and discouragement. So, plow up the ground of a hard heart, and plant new seeds by speaking words of life, love, unity, peace, encouragement and contentment. Go forth in power by expressing My heart in what you say, in the seeds you sow, and expect a great and abundant harvest.
Be About The Father's Business
Would you be contentious if I were standing there with you? Would you speak the words you speak to one another if I were in your midst? I tell you the truth, the thoughts and judgments you have against one another are also against Me. I have risen up in indignation against this injustice, for I see your proud look and the discord you have sown. Haven't I already warned you about the spirit of division? Are you dull of hearing so that you cannot pay attention to My words of warning? Stop this nonsense and turn from the works of the flesh. Rise up in the Spirit, be about the Father's business, and mind your own business.
2 Corinthians 10:4-7 For the weapons of our warfare are not carnal but mighty in God for pulling down strongholds, casting down arguments and every high thing that exalts itself against the knowledge of God, bringing every thought into captivity to the obedience of Christ, and being ready to punish all disobedience when your obedience is fulfilled. Do you look at things according to the outward appearance? If anyone is convinced in himself that he is Christ's, let him again consider this in himself, that just as he is Christ's, even so we are Christ's.
Listen Carefully
I have given you the Internet as a tool to convince, rebuke, exhort, with all longsuffering and teaching. It is My desire that you encourage one another in the word. You are faithful to this cause as you bring glory to My name. But, this I say to many, you have used this platform to draw attention to yourself, and to try to get your flesh needs met, which is idolatry. You seek to be satisfied by your discourse with one another, but in so doing you have entered a realm of fantasy where there is no accountability in relationship. You have even entered into deception because you can hide behind your computer screen and not be found out. I say to you, this is an abomination in My sight. Listen carefully. The satisfaction that you seek is only found in intimate, vital relationship with Me.
Matthew 6:22-23 "The lamp of the body is the eye. If therefore your eye is good, your whole body will be full of light. But if your eye is bad, your whole body will be full of darkness. If therefore the light that is in you is darkness, how great is that darkness!"
Let Righteousness Shine
I call forth righteousness in My people. I have called you as lights in the darkness, peace in the midst of turmoil, truth to stand against error. As you walk in truth and light you will become My standard bearers. I seek a people whose heart's desire is to live for Me alone. I look for those who are totally consecrated and dedicated to Me. Come forth, My beloved, and let righteousness shine forth.
Isaiah 61:10-11 I will greatly rejoice in the Lord, my soul shall be joyful in my God; for He has clothed me with the garments of salvation, He has covered me with the robe of righteousness, as a bridegroom decks himself with ornaments, and as a bride adorns herself with her jewels. For as the earth brings forth its bud, as the garden causes the things that are sown in it to spring forth, so the Lord GOD will cause righteousness and praise to spring forth before all the nations.

Chapter 7
FAITH...
Be Faithful In Little
Keep your eye single with concentrated focus. For there are many things which vie for your attention and bring distraction. I have set you to do a specific spiritual work, but don't think that what I have given you to do is easy or mundane. You are looking way beyond as though scanning the horizon for what mighty work I would have you to do. But, I say to you, if you are faithful in little, you will be faithful in much. I am asking you to be faithful in the little things that I have appointed you to do. Haven't I said that My yoke is easy and My burden is light? Do not underestimate even the smallest assignment, but know that you are yoked together with Me.
Sweet Victory
I have seen the whirlwind of activity around you and the dust that the enemy has stirred up to bring confusion and the cloud of issues. I have also seen your willingness and ability to stand firm in the face of turmoil and not be moved by the chaos around you. I say to you, "Well done My good and faithful servant." You have refused to cave in and be tempted by flesh responses. You have trusted and obeyed My word. You will find that clarity will come just as surely as the sun burns through the morning fog. Rejoice! Victory is sweet!
Possess And Occupy
Do you hear the roaring of the Lion? Do you hear the sounds of victory in the heavens? For, I say no weapon formed against you shall prosper. I have promised you victory. Though the enemy has come in like a flood, I have raised up a standard against him. You will begin to see that you have gained the advantage and won the battle that you have been in. I have indeed given you power to tread upon serpents and scorpions and over ALL the power of the enemy so that nothing shall be any means hurt you. I say to you, rise up in faith and take the spoils of war. Possess and occupy the spiritual territory given to you for the victory is sweet.
Stay In Faith And Believe
Watch out! The enemy is going to try to stop the flow of My Spirit through you. He will do it by speaking lies. He has come to kill, steal, and to destroy. But, he can only bring his wicked schemes to pass if you walk in the flesh instead of moving in the Spirit. The first thing he will try to do is kill the life of Christ in you through condemnation. Then, he will steal your boldness in an effort to shut you up. Finally, he will destroy your sense of worth in My kingdom and render you ineffective. But, I say to you that if you stay in faith and believe My word instead of his lies, he will have no inroad. I have given you authority to trample on all the works of the enemy. So, rise up in victory and walk in truth. The devil is a liar and the father of all lies.
Faith Explosion
I am going to cause you to step out of the shadows and obscurity into the light. Listen to Me! I am going to eradicate every trace of darkness that has tried to keep you shrouded and hidden. Enough is enough! The enemy has hindered My work in you long enough. It is time to break through those barriers and break down the walls that have kept you from moving in absolute liberty. I am pouring out My Spirit in greater ways than you have ever experienced. It will be like a river at flood stage, overflowing its banks, moving too rapidly to contain or control. Get ready for your own personal faith explosion.
Blow The Trumpet
When you feel displaced and unable to fulfill what I have called you to do, know that I have equipped and prepared you for such a time as this. I will not leave you where you are. I am causing you to walk in divine order. I will position you in places of increased freedom and effectiveness. I have gone before you to make the crooked places straight, and I am calling you to spiritually blow the trumpet that will awaken those who slumber. Refuse to heed the lies of the enemy that would keep you from moving ahead. You cannot change those
around you who stifle and quench the Spirit and hinder your mission, so you must come out from under this dampening influence. I have given you vision and placed a desire in your heart. It is time for you to allow this vision to take form and manifest.
Take The Land
I am commissioning you to take the land. You will take back your territory from the enemy. He is working to re-establish his environment over that which you have already taken. Do not give in to his works of negativity and evil. Do not allow him to take dominion over you. I have given you spiritual authority to stand against this invasion. Occupy what is already yours. Brace yourself and do not yield to this prevailing ill wind. Establish your position in My glory, My presence and My power. Have faith and protect your anointing.
Total Investment
Go forth in boldness. Rise up out of timidity and fear. Be done with self-focus and short-sightedness. This is a new day, and I am doing great and mighty things. Watch for and resist distractions like things to worry about and too many things to do. If you will look to Me apart from these distractions, I will open your eyes and bring clarity to your vision. I will cause your ears to hear with precision, and I will guard your heart with peace. I am looking for those whose total investment is in My kingdom, those who are available to Me to fulfill My purposes on the earth. I will not coerce you into faithfulness. I will not beg you to forsake worldliness. My call is going forth with an invitation for you to come and follow Me.
Stand In Pure Faith
Be sensitive to the conviction of My Spirit that pricks your heart, for I am bringing correction and cleansing. I am revealing the root of confusion as well as places of rebellion and self-will. I will bring to light those areas of double-mindedness that have stayed hidden in darkness until now, and I am calling you to stand in pure faith in every area of life. These corrective measures may seem like small course corrections, but they will release you to walk in greater spiritual power and effectiveness. I have appointed you and anointed you for specific tasks, and this time of preparation is imperative.
For Such A Time As This
The storms are raging around you both physically and spiritually, and the enemy has implemented his plan to drive you away from your place of anointing and purpose. His plan is to seduce you away from the place of your greatest effectiveness. Why have you allowed fear to strike terror in your heart so that you would want to run and hide? Have I not caused you to rise up in My strength and My power to tear down the forces of darkness around you? Haven't I proven that the power of the enemy is nothing compared to the word I have placed in your mouth to bring down strongholds? Though threats come against you with a fury, destruction will not come near you. I have chosen you for such a time as this. Fear not. Rise up in the assurance that I am with you in the fires of affliction. Rise up in the authority that I have given you.
Psalm 91:7-10 A thousand may fall at your side, and ten thousand at your right hand; but it shall not come near you. Only with your eyes shall you look, and see the reward of the wicked. Because you have made the Lord, who is my refuge, even the Most High, your dwelling place, no evil shall befall you, nor shall any plague come near your dwelling.
Touch Me With Your Faith
I am the Lord who heals you. My healing virtue has not diminished. My desire is for your complete and perfect healing. The price has been paid. Come and touch the hem of My garment. Press through the crowd of fear, doubt and unbelief. Access by faith what I have already provided. Did I not heal ALL who came to Me in the days when I walked the earth? I have not changed. I am the same yesterday, today and forever. So, I say come. Come and touch Me with your faith, for surely I will not turn you away disappointed. Cast off the garment of infirmity and when you touch Me, I will touch you and bring restoration and wholeness to your being.
Isaiah 53:5 "But He was wounded for our transgressions, He was bruised for our iniquities; the chastisement for our peace was upon Him, and by His stripes we are healed."
Spiritual Vision
Have I not come to open blind eyes, to bring out prisoners from the prison, and those who sit in darkness to light? My desire is to open your eyes so that your spiritual vision becomes clear. I want you to catch a vision of My plans and purposes for your life. But, as long as you can only see your problems and the limitations in your circumstances, you do sit in darkness. I say to you, lift up your eyes; lift your vision higher. Where there is no vision the people perish. Where there is no vision, you will be restrained and prevented from moving ahead. Get up! Cast off the garments of a blind beggar and come that I might give you sight. Walk away from the darkness, despair and depravity of your own prison and limitations that result from a lack of vision. You cannot build without a plan, and you cannot plan without vision, and you cannot see without faith.
It's Not Over Till It's Over
I speak to those who have lost spiritual perspective. You have been burdened by life's circumstances and have lost sight of My promises. You have held on and held on, believing for the fulfillment of a promise, and yet you have not seen the evidence of its completion. But, I say to you, it's not over till it's over! Keep the faith. Move and make decisions based on your faith instead of on your circumstances and what you can see with natural sight. For, the things you can see are temporary, but things not seen are eternal. Walk by faith and not by sight! Set your heart on that which is everlasting. Come back to the place of spiritual reality where your walk in the Spirit is fresh and pure, a river of life that brings joy and assurance to your soul.
Hebrews 11:6 "But without faith it is impossible to please Him, for he who comes to God must believe that He is, and that he is a rewarder of those who diligently seek Him."
Rise Above Your Own Reasoning
Stop! Look! Listen! See if you can discern the times and the season that is upon you. Behold, you are in a time of progression and a season of positioning. Push through the gray dawn of shadows where your path is uncertain. Come into the full light of My plan and purposes for you. I am calling you out of obscurity into clarity. No longer will you wander through life with your mind filled with questions and doubt about where you belong. I tell you the truth, I will move you with precision and accuracy. In order for you to be perceptive to My leading, you must rise above your own reasoning and soul desires. I urge you to break out of the limitations of the flesh like a butterfly breaks out of its cocoon. It is time for you to walk by faith and no longer be restrained by your senses. This is a new time, and it is imperative that you discern the moving of My Spirit.
Set A Watch
I give you a key word, expansion. Get ready, for you will be expanded in unexpected ways. You are about to encounter situations that will cause you to stretch. Your spiritual vision is going to be enlarged. But, you ask, "How can my vision be expanded and my expectation be enlarged when I haven't seen evidence of my current vision coming to pass?" I tell you that you have an appointment with destiny, and that which I have spoken to you will come to fruition. Do not dump down in discouragement or depression. Refuse to be lulled into complacency and spiritual slumber. Deny the temptation to fantasy and delusion. Set your heart clearly on Me, and do not depart from spiritual reality. Set and watch and look to Me, for I am the author and finisher of your faith.
I Give You Power
The enemy has risen up as a cobra that will not be charmed. He can be recognized by his intimidating behavior, deadly bite, and hood which flares when he is angry or disturbed. He will spray his deadly venom from a distance. I tell you that this is a religious spirit that seeks to destroy. But, his weapons are only in his mouth. His venom consists of lies and deception, hatred, anger, and intimidation. Haven't I said that I have given you power to trample on serpents and scorpions and over ALL the power of the enemy so that NOTHING shall by ANY means hurt you? Put this serpent under your feet. Your authority is in and by the Spirit. Do not war in the power of your flesh. Rise up in spiritual power and exercise your authority.
Luke 10:19 Behold I give you the authority to trample on serpents and scorpions and over all the power of the enemy, and nothing shall by any means hurt you.
You Of Little Faith
I remind you that the weapons of your warfare are not carnal but mighty in God for pulling down strongholds, casting down arguments and every high thing that exalts itself against the knowledge of God, bringing every thought into captivity to the obedience of Christ. Your weapon to be used against the enemy is to bring down his strongholds. And I want to bring to your attention a very subtle stronghold that he reinforces daily. At the beginning of the day he will re-establish the thread of worry so that you take up where you left off the day before with those things you were concerned about. But, you must not take up this burden. Do not carry this weight of anxiety; drop it at My feet and trust Me to perfect and bring to conclusion those things that concern you. Let Me direct your steps and lead you in the way you should go. Worry is a crippling thing that causes you to walk with an unsteady and halting gait. It is a hindering force that keeps you from moving ahead with assurance and faith.
Rise Up In Faith And Fight
Come out from the shadows of doubt and unbelief. Fear has caused you to hide. Instead of confronting your enemy and facing the issues that have threatened you, you have retreated and withdrawn hoping that you can just be quiet enough for this crisis to pass you by unnoticed. But, you have been noticed. You are the target, and this spirit that intimidates will not leave you alone until you have risen up in the face of your enemy and roared back. This is not a battle of flesh and blood. This is a spiritual battle that requires that your armor be in place. You must gird yourself with righteousness, truth and peace; rise up in faith and fight back with the Word of God. Do not shrink from these challenges, for I have not given you a spirit of fear but of power, love, and a sound mind. Rise up and take back what the enemy has stolen, for I have given you peace as your possession.
Drawing You Higher
I have allowed places of temporary blindness in your life so that you cannot see where you are going next. This is for the purpose of sharpening your walk by faith. You cannot be self-sufficient and still depend on Me. We cannot be one when you are independent. The strong arm of the flesh is not effective in the spiritual realm. I am drawing you higher and elevating you so that your spiritual eyes will be opened to a greater degree. Rise above the blinding storms of life, and I will show you things to come. Be prepared to look past your current circumstances to see what I will show you for this time.
Chapter 8
MEEKNESS...
Turn And Repent
Listen to My voice alone. Speak only what I speak to your heart. Do not seek recognition. I am looking for those who will only be vessels for My honor, not those would heap honor upon themselves. Woe to you, false prophets, who say you have heard My voice but have not. Woe to you who envision lies and lead My people astray. Woe to you, for you seek to exalt yourselves and not Me. Woe to you who prophesy according to your own doctrines and twist My words to prove yourselves right. Woe to you who pronounce judgment upon your own enemies and say it is from Me. I say to you, turn and repent of this evil, for it is grievous to Me.
Submission
I am in the process of breaking down the pride and rebellion in this generation. I will break the hearts of those who have stubbornly refused to receive My correction and have justified their error and have covered their sin. I am indeed cleansing and purging and purifying those who truly belong to Me. I have said, "No chastening seems joyful for the present, but painful; nevertheless, afterward it yields the peaceable fruit of righteousness to those who have been trained by it." Then, let this chastening instruct you in the ways of obedience and submission to My will. I will humble those who have exalted themselves and exalt those who are humble.
Rely On Me
"Be strong in the Lord and in the power of His might." Some of you are trying to be strong in your own might, relying on your own strength and wisdom. I say, even now and in the days ahead your own resources are not and will not be enough. Now is the time to seek Me for wisdom and rely on Me for strength. Self-sufficiency is the beginning of pride when you say in your own heart, "I will figure this out myself; I will do it my way." But I say that you will not. Your own wisdom is but foolishness to Me, only child's play. Your success or failure will depend on your reliance on Me for wisdom and strength.
Step Down Or Fall Down
Oh you, high and lofty ones. Who do you think you are? Have I not spoke in My word that pride goes before destruction and a haughty spirit before a fall? What do you hope to gain by exalting yourself and getting puffed up in pride? I hate a proud look! I seek those who are willing to be humble servants, and I will cause them to be My very own children. I cannot use those who judge their brothers by forming negative opinions about them, or those who sow discord among the brethren. Have you forgotten where you came from? Have you failed to remember your own wretchedness and filth that I drew you out of? Have you forgotten Calvary and the price that was paid for your redemption? This certainly had nothing to do with your own efforts. The entrance to and benefits of My kingdom are only received in humility. Come down off your high horse. You can choose today whether you want to step down or fall down.
Be A Servant
Listen, My children! Many of you are bringing disorder to the Body of Christ because you are drawing attention to yourself in ministry and in fellowship. You want to be noticed and appreciated and recognized as spiritual. This is pride and idolatry. Yours is not to seek to be recognized, even for the purpose of acceptance, but yours is to seek to be a servant. Humble yourself before Me and be available to Me for My purposes without fanfare. Quiet your soul and your desires for recognition and acceptance, and serve Me.
Put Yourself Aside
I am looking to and fro seeking those who will stand in the gap and pray. Will you humble yourself and pray and seek My face on behalf of another? Will you consider others more highly than yourself? Will you sacrifice your own self-centeredness to undergird another in prayer?
2 Chronicles 7:14-15 "If My people who are called by My name will humble themselves and pray and seek My face and turn from their wicked ways, then I will hear from heaven and will forgive their sin and heal their land. Now My eyes will be open and My ears attentive to prayer made in this place."
It Is Pride
What is this contention and strife in My Body? What is this undercurrent of unrest, offense, anger and criticism of one against another? I say it is pride. How can you be My humble servant and still parade this haughty spirit? Repent and do the most important work of loving Me and loving one another. How can I honor you and use you in My kingdom when you have exalted yourself and your opinions, especially against those I love? I say humble yourself. Repent and turn from this wickedness and walk in peace.
Willing Vessels
Listen closely. You have been on the threshing floor and the sifting process continues. The cleansing, purging, and separation has been an ongoing process as I am preparing My bride for My return. I will return for one bride, not many brides. What you have been going through has been for the purpose of individual cleansing, but now it is time for the corporate work to be done. If you submitted to the sifting, then what you will now experience will be for a grinding together. You will begin to enter the grinding process that will break down barriers, prejudices and pride. It is important for you to move through issues with those around you with an unselfish attitude esteeming others better than yourself. Seek to honor one another, for I will pour My love through those who are willing vessels.
Give Up
Give up your offenses today. Forgive those who have offended you, misunderstood you, wounded you and caused you pain. Your unforgiveness creates a dark pool of bitterness in the recesses of your heart so that everything that comes from your heart is bitter and stagnant and does not produce life. Instead it produces defilement. Release your bitterness to Me and allow Me to make your heart a place of purity, out of which can spring forth life and peace. Let the abundance of life flow out of your innermost being.
Bow Low In Worship
These are the days of My power when you will see more of My glory than you could ever have imagined. My power and My glory will only manifest through those who are totally yielded and submitted to Me. I will not manifest through your works, no matter now noble. You must cease from your own labor and come into My rest. You cannot produce power and glory by doing good works; it will not come as a result of good doctrinal teaching or fiery preaching; it will not come because of your charitable deeds. My glory will only manifest when you bow low in worship. And, when you see My glory you will cry out, "Holy, holy, holy, Lord God Almighty, who was and who is and who is to come."
Put Aside Selfish Agendas
Be aware that the enemy has sent a lying spirit against My prophets. I admonish you this day to only speak My words. Do not speak from your own knowledge of worldly affairs, your doctrines, feelings, or imaginations. For assuredly if you do this, you will be cut off from fellowship with Me. There will be serious consequences to those who prophesy out of their own soul and prejudices. My warning is strong and clear. Press into My throne room and listen, for My words will come with precision and clarity. Put aside all selfish agendas. Woe to those who want to establish a prophetic name of fame, for surely you will be made a fool.
Steward Of Your Words
I remind you today that death and life are in the power of the tongue, and it is My desire for you to always speak life and that you always bring glory to My kingdom through the words of your mouth. Set a watch and be a good steward of your words, making sure that every word spoken brings maximum benefit to the hearer, building up and not tearing down. I also speak to those who tend to dominate conversation. This tendency comes from both insecurity and pride, and it is My desire that you humble yourself and become a good listener. Be quick to hear and slow to speak.
Matthew 12:36 "But I say to you that for every idle word men may speak, they will give account of it in the day of judgment."
The Pure In Heart
I will reveal to you the ancient heights and the idolatrous strongholds, and I will show you the places in your heart that need to be brought low. I shall come against everything that is lofty and proud and everything that has been exalted above My kingdom. I will open your eyes that you might see the desolation of your own soul as it has been scarred by lawlessness and pride. I seek to bring cleansing and healing, but I cannot do it without your consent. Repent and yield quickly to this process, and I will show you not only the manifestations of haughtiness, but I will show you the seat of pride.
The Cleansing
I am doing a secret work in the secret places of your heart. You have done your best to look better on the outside, presenting yourself as holy and righteous to those around you, but I see what is inside, and there is still a cleansing work to be done. Behavior modification will simply not do, for that equates to hypocrisy. If you will come to Me, I will cleanse you and make you completely whole. However, you will have to leave the past behind. Arise and throw off your dirty garments and make yourself ready to receive a robe of righteousness, for I will indeed clothe you with purity. Come now with a change of mind and heart, and choose to hate evil. Let My light expose the unfruitful works of darkness and bring a cleansing from within.
Come To Me As A Child
I have greater things to reveal to you, but you cannot receive what I have until you get out of your rut. Where are My prophets who will come to Me without preconceived ideas and established notions? Where are those who will truly seek My face without religious concepts that hinder the release of what I desire to send forth? I say, come to Me as a child and not as a sage. Some have established themselves in their own minds as having superior wisdom and insight, but this is the attitude of a Pharisee. I would have you humble yourself, for the day of the Lord shall come upon the proud and lofty and they shall be brought low.
Closer Walk
I am calling you to a closer walk with Me. I have set you apart from the foundation of the earth, and I am calling you for such a time as this. Be done with social and political religious exercise. Draw close to My heart and incline your ear to hear My leading, for I have a plan and purpose that cannot be accomplished where you are. I am leading you out to do great exploits in My name. Therefore, humble yourself, submit completely to My will, and you will be moved to a place of greater effectiveness in the kingdom than you could ever have imagined or believed.
Humble Yourself
Have I not already told you about a spirit of division? It comes in under jealousy and pride. I say to you to humble yourself under the might hand of God. Stop talking about others and making judgments and forming negative opinions. Is that how you want others to treat you? I have said, "Judge not, and you shall not be judged. Condemn not, and you shall not be condemned. Forgive, and you will be forgiven. Give, and it will be given to you: good measure, pressed down, shaken together and running over will be put into your bosom. For with the same measure that you use, it will be measured back to you." (Luke 6:37-38) If you do not want to receive back what you have released and given, repent, forgive, and humble yourself.
I Will Not Share My Glory
It is My glory! I will not share it with another, but I invite you to walk in it. I am the source of glory, and I will bestow My abundance and honor on those I desire. I seek to glorify those who serve Me with humility. Those who exalt themselves have received their own honor and sought their own glory, but it is not from Me. James 4:10 "Humble yourselves in the sight of the Lord, and He will lift you up."
I See Your Desire
Do you feel the shift in the spirit realm? I am releasing you from situations and circumstances that have been the bane of your existence for some time. I am removing the thorn in your flesh. I have allowed it until now for the purifying of your heart from pride. But, I see your desire to walk humbly before Me, and I am removing the stones of stumbling, the rocks of offense and the hindrances that have kept you from fulfilling My purposes in your life. Go forth now in renewed strength and hope, for the best is yet to come.
Chapter 9
SELF CONTROL...
Drop Your Rocks
My children! Why would you stone one another? Why are you so ready to annihilate one anther with the words of your mouth and the accusations of your heart? How you judge and condemn and look suspiciously at one another! How you point your finger and wag your tongue! But, didn't I say, "You who are without sin cast the first stone"? You know that you are guilty of doing far worse than you have accused others of doing and that you are no better than the ones you have set your heart against. I say to you, drop your rocks and walk away. Exercise your right and ability to forgive those who have hurt you. Release them and pray for them lest your heart become hardened and you lose fellowship with Me.
Fan The Flames
Awaken, you who sleep. Arise from your slumber. The rhythmic sounds and patterns of religious exercise and life as usual have lulled you to drowsiness and complacency. Do not succumb to this languid spiritual condition. Stir yourself to life. Refuse to allow the enemy to steal your spiritual vitality. Get up and by example be a witness of the reality of My existence. Keep the fires of revival burning in you; blow the coals and stir the embers, for the smoldering remains of a fire is evidence that the flame going out.
Spiritual Perspective
Alert! This is a time when you must discern the spiritual atmosphere and move by the Spirit. It is not a time to be lazy or to allow the prevailing winds of your circumstances to move you away from your spiritual focus. Seducing spirits have been sent against you, My people, to draw you away from your First Love. These demon spirits will try to awaken your flesh desires and passions through discontentment. Be especially careful not to fall into a sense of being isolated or lonely, for seduction will move you to try to satisfy this emptiness by natural means when the way of satisfaction will only come through intimate relationship with Me. You must keep spiritual perspective and be about the Father's business. The end of carnality is always greater dissatisfaction.
Self Control
I speak to those of you who have taken on more responsibility than you can effectively handle. I call you Martha-Martha, for you are running here and there, doing many things, while neglecting your primary purpose, which is to have sweet fellowship with Me. You have need of temperance. This is a a time for you to re-evaluate your expenditures of time and money. If you will yield to My will and purposes in these areas, I will cause you to maximize your resources, and you will see the miracle of multiplication. You are My stewards. Unless you manage My resources by way of obedience to My direction, you will squander what I have put under your management and the result will be great dissipation. Exercise self control.
A Tidal Wave
The spirit of religion has been loosed against you, My people, like a tidal wave. It will demand that you "be good." And there is nothing wrong with being good; what is wrong is that in your efforts to be good, your focus will shift from beholding Me to looking at yourselves. Your desire to please Me by works of the flesh will overwhelm you and produce either torment and a sense of hopelessness or a sense of achievement and pride. Look again to Me and be reminded that the price for your righteousness was paid on Calvary. It is the blood that cleanses and reforms you.
Lay The Ax To The Root
You must offer up your sacred cows, for those places in you that you have protected from conviction will now be exposed and dealt with. There are areas of flesh and sin that you have reserved for yourself that will keep you from further spiritual progress if not revealed by the light and conquered. Be aware that you will not have to search deep in your soul to find what I am talking to you about. I will allow circumstances to suddenly and surely bring this flesh manifestation to your attention and conviction. Be prepared to act decisively by laying the ax to the root, for I will indeed expose the motivation for your behavior.
Choose What Is Right
It is imperative for you to live by true integrity and honesty in all things. You must choose what is right and forsake darkness. You will have opportunities in every area of your life to see where you need to make changes. Deuteronomy 30:19 "I call heaven and earth as witnesses today against you, that I have set before you life and death, blessing and cursing; therefore choose life, that both you and your descendants may live."
Be Diligent
Be steadfast in your knowledge of Me and refuse to give the enemy any ground to establish doubt and unbelief. Don't believe the lies of the devil; believe the Word! Haven't I said, add to your faith virtue and to virtue knowledge? Therefore be diligent to know My word and be strengthened by the truth. Do not neglect your daily bread!
Perfect Order
Keep looking up! Refuse to be drawn into despair because of what you are looking at. Keep your vision clear. Seek that which is above. Seek Me with all your heart, and then the wisdom you receive will be pure, even in dealing with worldly issues. When your focus is on yourself and your problems, you will only wander around in confusion. Get your focus and priorities right, and everything else will line up in perfect order.
This Is The Way
The enemy is a taunting force, always daring you to step into dangerous territory. He does his best to lure you into a trap where he can take you captive and hold you in bondage. He is the trickster of the ages and very adept at his craft. How can you stay out of his traps? By walking in the Spirit and relying on divine guidance and direction; by listening to His voice when He says, "This is the way, walk in it!" Stay in the safety of His presence, under the shadow of His wings.
Psalm 37:23-24 "The steps of a good man are ordered by the Lord, and He delights in his way. Though he fall, he shall not be utterly cast down; for the Lord upholds him with His hand."
Be Quiet All Flesh
Stop where you are! Open your eyes wide and look around you. I have set signs in your midst to confirm spiritual things. I speak to you in a variety of ways. I speak to your heart in a still small voice. I speak guidance and direction through your circumstances. I use the mouths of My prophets to keep you on course. I will even use a little child sometimes to lead you. My word to you today is to stop moving through life as though you were without sight or hearing. You have become dull spiritually because you have yielded to the desires of the flesh and have lost your awareness to the things of the Spirit. Be quiet all flesh!
Let Go Quickly
Haven't I said that I will thoroughly purge My threshing floor! Nothing useless will remain in that which I keep for Myself. I am threshing each of you, purging you from dead works, useless attitudes, values, and idolatry. The more you try to hang on to things that have no value in My kingdom, the greater the threshing. Wisdom is to let go quickly of things, thoughts, attitudes, behaviors and values that bind you to the world.
Seek Me For Satisfaction
I am placing a divine hunger in your heart and a thirsting in your soul that only I can satisfy. But you have to seek Me. Come close. Draw near to Me. Dissatisfaction will manifest as a sense of being separate and alone even when you are with other people. Haven't you noticed that you can't seem to relate to others like you used to? Small talk and social interaction are more difficult because I am calling you to come aside and commune with Me. I want to infuse you with renewed zeal and intimacy. I want to restore your joy and strength. I want to make you My disciple in preparation for what is ahead. Come and be in sweet communion with Me.
Priorities
Examine your priorities. You are often tempted to focus your attention on temporary things instead of the eternal, and to invest your time and energy on that which has no lasting value. But, that is like trying to build on My foundation with wood, hay, and stubble. It will all burn. Stop and consider what is truly important spiritually. Awaken from the stupor of flesh indulgence and be done with that which defiles. Re-establish your priorities, and come into order. I tell you assuredly that there is no satisfaction or reward apart from your relationship with Me.
1 Corinthians 3:10-15 According to the grace of God which was given to me, as a wise master builder I have laid the foundation, and another builds on it. But let each one take heed how he builds on it. For no other foundation can anyone lay than that which is laid, which is Jesus Christ. Now if anyone builds on this foundation with gold, silver, precious stones, wood, hay, straw, each one's work will become clear; for the Day will declare it, because it will be revealed by fire; and the fire will test each one's work, of what sort it is. If anyone's work which he has built on it endures, he will receive a reward. If anyone's work is burned, he will suffer loss; but he himself will be saved, yet so as through fire.
Come Into My Rest!
Stay close to My heart and be sensitive to My leading, and I will cause My purposes to be fulfilled. Refuse to succumb to vainglory, for it will take you away from My plans and purposes for you. The world would have you think that you need your self-esteem to be built up. But that is only a promotion of self-consciousness. You cannot walk in the Spirit and focus on yourself. Haven't I admonished you to take up your own cross and follow Me? My flesh had to be torn to give entrance into the Holy of Holies. The attack of the enemy will make you feel inadequate, unloved, unappreciated, and stupid. Please hear Me! Do not react by trying to build yourself up or by trying to prove your worth, for that would be futile. You are My own special treasure and you have nothing to prove. Come near to Me. Come into My glory and find peace. Abide in My place of safety. Come into My rest.
I Exalt Those Who Are Humble
I speak to those who go through life as though you were competing for a title or crown; and sometimes finding yourself to be the runner-up and not the winner. But, you are a winner in My sight, not because of your own attributes or works, but by My grace. Stop striving competitively to outperform others, for that is vain. The way to victory is humility in service. I exalt the humble and debase those who have exalted themselves. Submit, therefore, under My authority and let Me do that which is the most propitious for you. Truly I will lead you where you need to go. I will exalt you in due time for My purposes and not your own, but only as you yield your life wholly to Me.
The Flesh
The enemy targets areas of insecurity; he is indeed roaming around like a roaring lion seeking whom he may devour. But he will only attack your places of vulnerability. The reason you are assailable is because your flesh is exposed. Be aware that your first instinct will be to find safety for your flesh, and you will try to cover with self-justification. But your only place of safety is under the shelter of My wings. Be done with flesh and find shelter in My presence.
Romans 8:12-14 Therefore, brethren, we are debtors—not to the flesh, to live according to the flesh. For if you live according to the flesh you will die; but if by the Spirit you put to death the deeds of the body, you will live. For as many as are led by the Spirit of God, these are sons of God.
Half-cocked
I kept hearing, "Don't go off half-cocked." As I pondered that phrase, I could see a rifle going off accidentally before taking aim. And, the Lord said: "Slow down and carefully consider what is before you. Take time to discern your present circumstances and conditions before "firing" back. Be careful not to move on presumption. Be quiet before Me so that you can hear My voice. You must quiet your soul and listen carefully for My instructions.
Proverbs 17:28 "Even a fool is counted wise when he holds his peace; when he shuts his lips, he is considered perceptive."
Settle Down
I had a vision of a horse with a saddle but no rider. The horse was bucking, and I heard the Lord say: "Some of you are saddled with circumstances that you are trying to throw off by bucking. I have not saddled you with these conditions to make you uncomfortable or to cause you to resist, but rather to train you to carry the responsibilities that I will give you. I want to be able to trust you to bear My load with quiet assurance so that you will not abort My mission. I want you to come to the understanding that this saddle won't hurt you, but it will enable and prepare you. I have assignments ahead of you that you know nothing about, and unless you go through this training, you will be of no use to My kingdom. I say to you, settle down. Do not be afraid, for I am with you.

Copyright All Rights Reserved