THE TRUMPET
by Bill Burns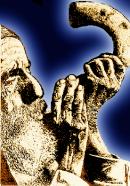 Hosea 8:1 Set the trumpet to your mouth!
DECEMBER 2014
December 1, 2014: And, the Lord says, "If you will do that which is written in My Word, then you will indeed receive the benefits of the kingdom of God that I have in store for you. For, the storehouses are about to open, and the blessings are about to flow. What I have reserved for you as the children of the end of the age will surprise all of you. My goodness is about to come in unique and powerful ways--in ways that you cannot even fathom. But, let it be known to your spirit that I can give to you abundantly and exceedingly above all that you can imagine, think or believe. Expect My goodness to come. Embrace it today and receive it."
December 8, 2014: I can see that the hearts of My people are in a better place than they have been. I can see that the hearts of My people are rejoicing because they know that I am for them. I can see them in this present situation and I am filled with joy for the very fact they are coming higher into this new season. There is a process of elevation that is taking place. There is the process of putting worry and fear down that has diminished and brought them into a place of extreme delight and joy in My kingdom, says the Lord. And, this I say, continue this process and do not let the enemy steal from you the joy you have. Be full of joy and the glory of God. Enjoy the journey, says the Most Holy.
December 15, 2014: I am speaking to you directly and very personally. I know your situations and I know what is taking place in your circumstances. I know what the enemy is doing to you and what the enemy has planned for you, but I have plans for you as well. If you will depend on My plans and come to know My ways and walk this path that I am establishing before you, then you will receive everything that I have in store for you. On this journey worry is defeated and unbelief is destroyed as you rise to a higher position of faith, knowledge and understanding of Me, says the Lord.
---
NOVEMBER 2014
November 3, 2014: Rejoice and know Me; know Me as I am. Know My love for you and that I care for you. Know that My great desire is to walk with you and to lead you in the ways of righteousness. I know your heart, and I know your struggles. One day soon you are going to look behind you and you are going to say, "What trouble?" For, I will walk you right out of this valley of the shadow of death and into the light of My joy and freedom. I will make you understand My purposes in these days, says the Lord.
November 10, 2014: Gird up the loins of your mind. Remember My goodness. Remember those things I have done for you in the past. Remember how I have been One with you. Write a book of remembrance in your heart so that you can come to the conclusion that what I have done for you is evident and that I am not finished doing for you the things that need to be done. And, indeed, it will be well with your soul, says the Lord.
November 17, 2014: Rise up, My people, this is your finest hour. This is due season and time to receive the anointing of this day. It's time to stand up and walk on the path of the new beginning that I have prepared and that I am sending you on. Your advance will be more glorious than it ever has been and your adventures will be greater than anything you have experienced in the past. I will go with you and walk with you. I will empower you for this season. So, rise up in faith believing that which I am speaking to you.
November 24, 2014: Be resolute. Become sure of yourself. Allow your faith to grow. Allow your faith to ascend to open the storehouses of heaven by which you shall indeed receive the promises that I have appointed for you. Set your resolve again this day. Know that I am faithful. Come to Me with a heart of thanksgiving. Come to Me with joy. Come to Me, for I have brought you through the process of salvation into this time in which you will indeed gain the victory over every circumstance that comes against you. Today is a new day, a new spiritual day--a time to begin again, says the Lord.
---