THE TRUMPET
by Bill Burns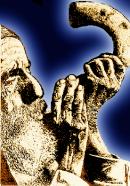 Hosea 8:1 Set the trumpet to your mouth!
August 2015
August 3, 2015: I am calling to My warriors. I'm calling to those who have the heart of a warrior--to those who will go to war. I'm calling to those who will rise up in a position of faith and seize not only a moment in this season, but the very promises themselves. I'm calling you to take the prize of the high calling, the calling that I have brought you forth into your destiny. Walk the path that is before you and obtain the victory. For, this is the season of supernatural empowerment in which I will bring the glory of My kingdom to bear upon the hearts of the warriors to take the victory from Satan. Take the victory now and believe, says the Lord.
August 10, 2015: I would have you to be an overcomer. Overcomers are those who fight through every circumstance--every situation that is established against them. The overcomer is the one who casts down the vain imaginations and the arguments that the enemy brings against them. The overcomer lives in My promises. Choose to be an overcomer and begin today by the renewing of your mind, says the Lord.
August 17, 2015: Have you heard, My people, the things that you must now do so that you can be free from bondage and live absolutely in the purpose and the power of the spirit of life with liberty? This day I set you free of everything that has held you in the past and show you the road that leads into the future. Walk this path that is before you--the path of light. And, on the path of light you shall be renewed. You shall be healed. You shall then be able to receive all that I have promised because you have determined to walk with Me on the path of light. Do it today, says the Lord.
August 24, 2015: I saw storm clouds gathering and out the clouds came lightning with thunder. And, the Lord spoke to me and said, "Tell My people to find themselves in safe spiritual habitations for the days ahead of them will be laced with danger and judgment. Come into secure habitations. First and foremost you must walk in the Spirit, for evil is about to rain down."
August 31, 2015: I say to you, these are dangerous times. Therefore, I am calling you to a higher level of understanding. A higher level and ability of being able to see and hear and to know the direction that you are to walk in so that you can be one with Me. Stay under the shelter of My outspread wings so that I can protect you, lead you, and guide you. The travesty of this world need not touch you. Even though you will see it all around you, you will find yourself in a secure and very safe habitation in Me, says the Lord.
JULY 2015
July 6, 2015: I say look up, for time is short. The house of God is being perfected in these days, and I am calling you in this season to a higher elevation, which will lead to higher and greater revelation and greater power with demonstration of that which I give you in these very days. Be prepared to move up. Be prepared to be more than you are today. Be prepared to walk in the fullness of the power that I have spoken over you, says the Lord.

July 13, 2015: Do the work. Practice My word. Redeem the times that you live in. Have your sins covered by the blood of Christ. Walk in integrity. Walk with the Spirit; He will set you free and He will teach truth. He will bring you into the perfection I have designed for you, says the Lord. For, it is My will that you prosper and live in health. It is My will that you be strong in My Spirit and the power that I provide for you. Come and receive that which I have done on your behalf. Come and participate in these times, these perilous times, with Me, but do so in the power of My Spirit for it is My power to give. It is My power to pour out. It is mine to give unto you this day and I do so gladly. Receive it.

July 20, 2015: I hear the Lord saying, "Absolutely, without hesitation, move into this position of freedom and liberty in the Spirit. For, it will become even more necessary in this the end of the age that you learn to live in the liberty and freedom of My Spirit; that you learn to live in unity with Me. And, that you learn to hear My voice more precisely than you've heard it before so that I can lead you and guide you and protect you. In these days that are ahead of you become one with Me and remain in a position of freedom where joy is free flowing in your life."
---
JUNE 2015
June 1, 2015: Get it right with regard to your relationship with Me, says the Lord, and with regard to allowing My Holy Spirit to live and dwell in you. Get your relationship on track--on course. Become one with Me. Walk with Me. Talk with Me, and do those things that I have encouraged you to do, so that I can do the things I said I would do on your behalf. For, this is the season in which I will indeed show you the way into the promise of the land that I have for you. Do it! Today!
June 8, 2015: Today, is a day for a fresh start--a new beginning. For those who have heard My word and heard My desire; for those who have ears to hear and eyes to see, I will take you further into the realm of My kingdom than ever. In the excitement of that which you see and know, you will be compelled to live and flourish in the kingdom of Almighty God. So, I say to you today, begin again. Begin in the strength and the power that I provide. Become one with Me and walk with Me, and your life will take on a brand new, fresh meaning, says the Lord.
June 21, 2015: Have you forgotten that I know every condition of your life? Have you forgotten that I know about you; that I'm not far from you? Do you know that I am for you? I know the circumstances that are adverse that you are dealing with in your life. I know the trouble that you have. I know the infirmity that you have. All of these things I know, but this one thing you must do--you must submit them to Me. Bring them to Me in a complete and absolute faith so that I can intervene in your situation and My power will be manifest in your life. So today, lift your eyes. Call upon My name. It is My desire for you to live in absolute victory in all things, says the Lord.
June 29, 2015: If you will abide in Me I will abide in you. I will keep you in safe habitations. I will bless you when the world is not blessed. I will give you the opportunities to know Me better. I will bring you forth as an end-of-days generation into the power that I have reserved for such a time as this. So, find yourself in the unity of the Spirit. Find yourself walking with Me. Find yourself in a position of conversation with Me. Find yourself one with Me in these very perilous times, says the Lord.
---
MAY 2015
May 4, 2015: Surely, I will show you things to come. For, it is written that you must position yourself in faith. Believe that I know you, that I love you, that I care enough about you to direct you and show you the way in which you must walk. And, if you will begin on that path of faith, walking with Me, surely you will begin to see more clearly than ever you have before. It is the season of elevation. It is the season of the rising up of the saints to see from My perspective, and not from the perspective of the world. Just go with Me. Let Me elevate you in this season. says the Lord.
May 11, 2015: You have heard it said that I am the Truth. And it is so. The life that you live from this moment on will be bound in the truth of My word if you receive it and make it yours by choice. And, that choice, My beloved, will propel you into the Spirit where you will see and understand the revelation of that which I desire to show you even more clearly than you are seeing it today. I come to you so that you may not only know Me but you will know My voice, you will receive My input and My instruction and the revelation of even the days. For, I know all things and I hold you in My power, says the Lord.
May 18, 2015: You are not only My children, but you have the potential to be My friends. And, as friendship begins to come alive within your spirit, you will ask and receive those things that you need. You will receive even the things that you have not asked for because I know before you ask exactly what it is that you need. So, all that is provided for you will become yours because you are one with Me and walking with Me; because you have found that position of unity of spirit. And, by the Spirit, you shall not only know those things that pertain to you and the life that you are living, but you shall also be positioned in your faith to receive all that I have spoken to you in these days, says the Lord.
May 25, 2015: I know you. I know the struggles that you have been through. I know the hardships that you have had to walk through. I know the work of the enemy against you. I know what's happened. I know that you have been a sign spoken against. I know that there are people that have risen up in conflict with you. I say to you right now, I know your heart and that your heart is for Me. Understand that I will not forsake you. Never will I leave you. For, I am leading you to a fresh pasture. I'm leading you to new ground. I'm leading you into the place of My Glory, even in these days. And, it begins this very moment and this time that as you realize that I am one with you that you will know that everything is going to be okay. Just walk. Walk with Me. Believe in Me. Trust in Me to bring you into the freshness of a new day this very season, says the Lord.
---