THE TRUMPET
by Bill Burns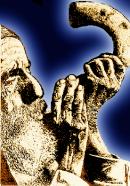 Hosea 8:1 Set the trumpet to your mouth!
APRIL 2014 --
April 7, 2014: I keep hearing thunder in the heavenlies, and I hear the Lord declaring that victory is yours--by the power of His Spirit, which He is amplifying in this season. You will have the victory if you believe what God is speaking. The power of the most Holy Spirit, will come upon you to cause you to be more than a conqueror in this season. "Only believe, and do that which I have called you to do, and you will be amazed at the outcome", says the Lord.
April 14, 2014: I hear the Lord laughing, and He's saying to His people, relax. Enjoy these days. Enjoy Me during these days. Do not allow the atmosphere of the world to weigh you down and create fear. For, I have not given you a spirit of fear, but of power, love and a sound mind. You have the right to enjoy the journey. So, throw your burdens and the things that trouble you onto Me, for My burden is light and easy to carry. Trust Me to take care of the issues that you cannot take care of. I am with you and for you. Again, I say, enjoy the journey. Stop taking yourself so seriously, and stop condemning yourself or allowing others to condemn you. Understand that you belong to Me. I know who you are, and I know your heart; I am for you. This is a specific time of new beginnings with Me, says the Lord.
MARCH 2014 --
March 3, 2014: I hear the Spirit of the Lord saying: You have heard, now apply My word. You have seen and, therefore, know the way that is prepared for you. Walk in that way, and all things will come to a place of victory in your life. For, if you have recognized your potential in Me this day then that foundation of faith, that great foundation of faith, will release all things that are necessary for you to live a victorious life. Your faith will be intact when the devil comes in like a flood, and you will raise up the standard of victory even before he comes into your house. So, run to the wall, raise the standard and declare your freedom. Declare that you are victorious in all situations, ruling over your circumstances, for they shall come to a place of application and accountability in Me. And, when that happens it will become an opportunity for you to come higher than ever before.
March 10, 2014: I see you. I know you. I know the struggles that you have gone through. I have seen and known the curses that have come upon you. I see and know the plan of the enemy against you. I know all of these things because I am God. But, please understand that it is not My will for you to suffer at the hand of the enemy. And, that is why I have given you the Holy Spirit of anointing who will rest upon you and empower you to be that which I have called you to be so that these works that I have done you can do. And it comes down to this point: Children of God, all you have to do is believe that all things are possible that I have spoken of regarding My people and it shall be so with you, says the Lord. Rise up! Shout with a voice of joy. Get over the defeat of compromise, the defeat of heaviness, the defeat of infirmity, and those things that hold you and keep you from My purposes. For, when I do this extraordinary and great work in this season, it is My company of redeemed that shall arise and they shall be the chosen ones that go forth into battle to destroy the works of the enemy. They will shake themselves free from every yoke which has been put upon them. In My name, do the work. And, I Myself, shall be with you to confirm that work with signs and wonders following.
March 17, 2014: God says that some of your involvements include things you ought not be involved in, and they are dragging you down. They are keeping you in a place of bondage. My instruction to you is stop those things that I am putting My finger on so that you are not negatively effected by them the rest of your life. For, these are the days where opportunities to come higher exist and where the greater realm of My presence is available to you. So, choose between these two things. If you check your spiritual level you will know that which is wrong, and then you can put those things aside as you resolve to go up higher.
March 24, 2014: I see where you have camped out. But, the cloud is moving. The cloud is going before you, so get up and go with Me, and you will have no regrets. For, I am leading you to a higher place than you have ever been. Your discernment in this season will grow greatly, and your ability to seek and find Me will rise to a place that you have never understood. You will know in your heart, without any doubt, that I am for you and with you. I am leading you, guiding you, protecting you, and I will provide for you. Healing will come. The healing waters will flow. The flow of the Spirit is increasing in these days. So, come into agreement with My purposes and come with Me on this journey, says the Lord.
March 31, 2014: This day I have opened doors for you to be free. I have made a way for you to establish your freedom. Activate the authority that I have given you, by faith, and walk in the way of it. You will find that you are on a fast track to a new position of spiritual life, joy and peace. It is My purpose to always bring you into victory, says the Lord. Fight for it!
---