THE TRUMPET
by Bill Burns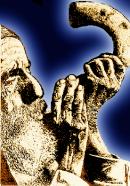 Hosea 8:1 Set the trumpet to your mouth!
SEPTEMBER 2014
September 7, 2014: Come and see. Come and receive that which I am doing. Let faith be found in abundance. Begin to understand that as My faith, the faith that I have-- supernatural faith--is yours. Indeed you can do the greater works. You can do what I have called you to do. So, stop your grumbling. Stop worrying. Stop being afraid of what's coming on the earth. For, indeed it will be horrifying to those who don't know Me. Yet because you know Me, My peace will sustain you and keep you. I will be with you, and everything that you need will be provided. Come into this season, says the Lord. Walk with Me. Walk with Me on the waters. Walk with Me in victory. Walk with Me in the Kingdom of God and to see that which I am doing. It is available to you. Believe and receive.
September 14, 2014: Cry aloud and shout, says the Lord. For, you have been in bondage for much of your life, even for long periods of time. And, I want you to be free--free to enjoy My presence, free to be who I have called you to be, free to do greater works, free to experience the glory of the kingdom of God, free to know Me and My presence, free to feel the outstretched wings that He covers you with, free to receive that prophetic word that comes, free to allow the gifts of the most Holy Spirit to come to bear in your life. Come forth, little one, come forth now in the strength of this hour and the strength of this season. For, as I come and bring you into the fullness of this season you will indeed experience the freedom and the liberty that you are intended to live in, says God Most High.
AUGUST 2014
August 4, 2014: Do you understand the power of the cross? It was the power of the cross, the cross on which the blood of Christ was shed and afforded you the opportunity to be sinless-- a son of God. The power of the cross points the way to victory. The Blood covers your sins and gives you an overcoming nature by which you can live in a position of victory. So, be victorious, says the Lord.
August 18, 2014: If you want to be involved with Me in the process of time and live with Me in the end of the age; if you want to be one with Me and go on the path that I have set before you; if you want to be directed by My Spirit and desire to receive the fire, then it will be yours to have. And I say to you, My children, the transforming power of My Spirit that rests upon you in these days will indeed bring you forth into the glory of your destiny. Do not be afraid or be anxious. I would have you rise up in Spirit and let the transforming glory come upon you. You will be changed from day to day into My very image, says the Lord.
August 31, 2014: I am calling you forth out of darkness in this hour to believe My word, to rise up and receive that which I am doing so that you can be more than you are right now. For, I have such an anointing to lay upon you in these days that you yourselves will be astonished at the result of it. And, when My fire falls upon you and when the lightning comes out of you the enemy will, indeed, be defeated. I have made a way and have saved the best wine for last, which wine you are. So, rise up from your position of defeat--from that position of being a victim, and believe today that I will bring you through into victory, says the Lord.
---