THE TRUMPET
by Bill Burns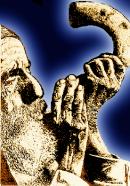 Hosea 8:1 Set the trumpet to your mouth!
JANUARY 2015
January 5, 2015: It is time for My people to rise up and receive the fullness of that which I have promised in My word. For, the signs of covenant promise have been given and they are coming to My people. And, with the flashing light of My right hand I will be with you and I will motivate you and I will move you in the fullness of this season. It is My purpose for you to go higher. It is My purpose for you to have complete victory over every situation and over every circumstance that the enemy will bring against you. Now is the time to make the choice; now is the time to make the decision. Will you walk in victory or will you allow yourself to be a victim? Choose this day whom you will serve and follow Me on the road to triumph.
January 12, 2015: Believe and receive. Step out in a place of faith that brings victory. I will do exceedingly and abundantly above all that you can imagine. No one will be left out of this process. You are about to enter the season of victory in all areas of your life. The windows of heaven will open and pour out the blessings of this season upon you, and you will know My love in a new way. Please remember that you can press into the vitality of My presence and receive healing in your body, spirit and mind. For, this is a time when you will see the demonstration of the Kingdom of Heaven, says the Lord.
January 19, 2015: Get up! Get up and go! Move towards the finish line. This race will take you through the process of your destiny so that you will understand it in ways that you have not known before. Enjoy the victories along the way, and become a mighty warrior in th
January 26, 2015: Beyond all of your expectations; beyond all that you can understand; beyond all that you can know--this is how I choose to bless My children in ways you cannot even perceive. Rise up, My people, and cast off doubt. Remove double mindedness. Respond in faith to that which I have spoken and receive the blessing of this season in a glorious and unique way, for I call you this day to be blessed, says the Lord.
---
DECEMBER 2014
December 1, 2014: And, the Lord says, "If you will do that which is written in My Word, then you will indeed receive the benefits of the kingdom of God that I have in store for you. For, the storehouses are about to open, and the blessings are about to flow. What I have reserved for you as the children of the end of the age will surprise all of you. My goodness is about to come in unique and powerful ways--in ways that you cannot even fathom. But, let it be known to your spirit that I can give to you abundantly and exceedingly above all that you can imagine, think or believe. Expect My goodness to come. Embrace it today and receive it."
December 8, 2014: I can see that the hearts of My people are in a better place than they have been. I can see that the hearts of My people are rejoicing because they know that I am for them. I can see them in this present situation and I am filled with joy for the very fact they are coming higher into this new season. There is a process of elevation that is taking place. There is the process of putting worry and fear down that has diminished and brought them into a place of extreme delight and joy in My kingdom, says the Lord. And, this I say, continue this process and do not let the enemy steal from you the joy you have. Be full of joy and the glory of God. Enjoy the journey, says the Most Holy.
December 15, 2014: I am speaking to you directly and very personally. I know your situations and I know what is taking place in your circumstances. I know what the enemy is doing to you and what the enemy has planned for you, but I have plans for you as well. If you will depend on My plans and come to know My ways and walk this path that I am establishing before you, then you will receive everything that I have in store for you. On this journey worry is defeated and unbelief is destroyed as you rise to a higher position of faith, knowledge and understanding of Me, says the Lord.
December 22, 2014: Be cradled in the fullness of that which I have given to you. For, the gifts that I have given to you will help you to prosper and to overcome all that the enemy brings against you. They will help you to rise up into the fullness of your calling and all that which I have done on your behalf. Maintain a position of knowing My love and holding yourself within the confines of that which I have given you. Then you can say that everything is going to be okay, and the truth of that statement will permeate all that you are involved in. You will not find yourself in a position of fear or condemnation. This is My gift to you in this season--the overcoming and overpowering framework of My love for you, says the Lord.
December 29, 2014: I hear the Lord saying, "What do you see? Do you see the door that is before you? Have you positioned yourself by faith to access what I am providing? Walk the path before you, and you will find what I have prepared for you. You will not miss it for it is your greatest desire to go on with Me. I will walk the path of life with you and I will reveal to you the greatness of your destiny. I encourage you to go higher than you have been before. I will be the breath beneath your wings that will lift you into spiritual places that you have not yet seen. Come, and enjoy the journey."
---