THE TRUMPET
by Bill Burns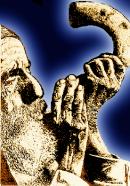 Hosea 8:1 Set the trumpet to your mouth!
OCTOBER 2014
October 5, 2014: Stand up My people! Shake off the dust of that which has come against you. Declare to yourself that you will rise above all that is a hindrance. For, I am calling you in this moment to come forth and come out of all oppression, all depression, all doubt and discouragement. Believe fully in Me. I will provide the power of your faith, says the Lord. Faith becomes a substance as you stand fully upon it to receive that which you need in this season.
October 12, 2014: The Lord says, "Come into the abundance of My love. Do not believe the lies of the enemy, for they will steal from you the promises that I have made. Come fully into My love. Allow Me to lead you and guide you in this season. Allow Me to be one with you. Allow Me to show you that you can prosper and that you can live every day of your life in victory. Allow Me to bring you to that place of peace, in Me, and all things will then work together for your good. Live under the rule of My kingdom in absolute love, joy, peace and unity with Me."
October 19, 2014: I hear the Lord saying, "Come on, stand up, and be counted. Come in to that which I am providing in this season. Let your faith arise and reach out to receive all I am doing in this time. The times are changing for your benefit. Receive that which I am doing, so that I can give you the goodness of this new place. Believe and receive." Psalms 27:13 I would have lost heart, unless I had believed that I would see the goodness of the LORD In the land of the living.
October 26, 2014: I am bringing you into a season of divine fulfillment--a season in which you can grow spiritually. It will be a season in which new understanding will come out of the teaching of My word and bring forth the power of the Spirit. You will embrace the Word in a fresh way that will produce revelation to cause you to be greater than you are today. You don't have to ask Me to increase your faith; you just have to ask for direction and believe that I will show you the right way to go. And, you will have the complete assurance and guarantee that I am bringing you into the fullness of what this season has in store, says the Lord.
---