THE TRUMPET
by Bill Burns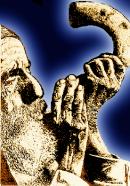 Hosea 8:1 "Set the trumpet to your mouth!
December 2013 --
December 2, 2013: Hear My voice today and know that I have instructed you. I have called you forth for such a time as this, so that you may accomplish My perfect will as I lead you and guide you into the fullness of this season. Pay attention, My people, to the signs that come. Pay attention to those things that I highlight. Pay attention to the written Word when it becomes illuminated to you, for it will lead you as a light that shines in the Tabernacle itself. Receive the anointing that I am bringing. Allow that anointing to rest upon you like a mantle. Let it become part of who you are. Let the anointing engage you personally so that it overlays the whole of your mind set and your attitudes. Then, those things that I bring to your attention must be quickly dealt with under the power of My anointing. Become My anointed one, and I will lead and guide you. I will provide for you, heal, and strengthen you. I will do all of these things that I have promised you by way of My covenant. Victory is assured, says the Lord God, Most High.
December 9, 2013: I am calling you into a time of jubilation and praise for all that I have brought you through. Take your stand in an attitude of thanksgiving, and you will be positioned to receive the blessings of this season. I dwell in the midst of those who praise Me with a whole heart. You are in a time of transition that will move you out of heartache into joy and liberty. Let your faith be established in this prophetic interlude between seasons as you wait for direction and instruction, says the Lord.
NOVEMBER 2013 --
November 4, 2013: I saw the symbol of the cross. I saw it changing. At first covered by the blood of Christ. And, then it developed a golden hue that spoke to me of His divine nature. And from that golden hue came the glory of His crystallized light shining forth across the generations to touch you today--shining forth to bring restoration and great deliverance. Shining forth to open the path that He has established before you. Shining forth to encourage you and empower you to walk upon this path and to take those steps with renewed energy and with great hope. The glory of the LORD will indeed carry you from glory to glory upon the path that He has prepared for you to follow. Take the steps. They will lead you to places that are beyond your wildest imaginations. And, they will reveal the things that even you cannot conceive of this day. For, out of this journey will come the revelation of the current season, and out of these steps will come revelation to you personally. Come now; walk by faith into My purposes, for this is the hour of perception and the day of My power, says the Most Holy One.
November 11, 2013: Come, My children; this is your day. It's the day in which you volunteered to be a part of the process of that which I am doing. So, cleanse yourself by My blood, and anoint yourself by the power of My spirit, says the Lord. Come forth in a fullness of faith so that you may receive the promises completely, absolutely, and make all of them yours to live in, to move in, and to gain a glorious victory. Receive today. Become strong in the Spirit and let your heart cry be that which David had--create in me a clean heart and make my spirit steadfast.
November 18, 2013: Let your faith arise. Let your faith be the prominent part of that which you pursue in this season. Use your faith. Allow your faith to grow. Allow it to become sensitive to My promptings. Allow your faith to come to Me unhindered by doubt or unbelief. Allow it to come and you shall receive that which I have for you, says the Most Holy. Let your faith arise because it is the very substance of things hoped for. Hebrews 11:1 Now faith is the substance of things hoped for, the evidence of things not seen.
November 25, 2013: Do you feel My expression of joy over you? If you do, then you know that I have been with you, that I have spoken to you, and I have encouraged you. So, let this moment rest upon you as the mantle of anointing for the season that is ahead. I would have you embrace this season with joy and faith. And, I would have you to march forward in triumph because you know that you will win the battles that are necessary. You will receive your reward in this season. For, I have chosen this time to demonstrate My love for you by the giving of gifts, says the Lord God Almighty.
---