THE TRUMPET
by Bill Burns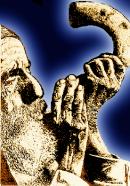 Hosea 8:1 Set the trumpet to your mouth!
OCTOBER 2014
October 5, 2014: Stand up My people! Shake off the dust of that which has come against you. Declare to yourself that you will rise above all that is a hindrance. For, I am calling you in this moment to come forth and come out of all oppression, all depression, all doubt and discouragement. Believe fully in Me. I will provide the power of your faith, says the Lord. Faith becomes a substance as you stand fully upon it to receive that which you need in this season.
October 12, 2014: The Lord says, "Come into the abundance of My love. Do not believe the lies of the enemy, for they will steal from you the promises that I have made. Come fully into My love. Allow Me to lead you and guide you in this season. Allow Me to be one with you. Allow Me to show you that you can prosper and that you can live every day of your life in victory. Allow Me to bring you to that place of peace, in Me, and all things will then work together for your good. Live under the rule of My kingdom in absolute love, joy, peace and unity with Me."
October 19, 2014: I hear the Lord saying, "Come on, stand up, and be counted. Come in to that which I am providing in this season. Let your faith arise and reach out to receive all I am doing in this time. The times are changing for your benefit. Receive that which I am doing, so that I can give you the goodness of this new place. Believe and receive." Psalms 27:13 I would have lost heart, unless I had believed that I would see the goodness of the LORD In the land of the living.
---
SEPTEMBER 2014
September 7, 2014: Come and see. Come and receive that which I am doing. Let faith be found in abundance. Begin to understand that as My faith, the faith that I have-- supernatural faith--is yours. Indeed you can do the greater works. You can do what I have called you to do. So, stop your grumbling. Stop worrying. Stop being afraid of what's coming on the earth. For, indeed it will be horrifying to those who don't know Me. Yet because you know Me, My peace will sustain you and keep you. I will be with you, and everything that you need will be provided. Come into this season, says the Lord. Walk with Me. Walk with Me on the waters. Walk with Me in victory. Walk with Me in the Kingdom of God and to see that which I am doing. It is available to you. Believe and receive.
September 14, 2014: Cry aloud and shout, says the Lord. For, you have been in bondage for much of your life, even for long periods of time. And, I want you to be free--free to enjoy My presence, free to be who I have called you to be, free to do greater works, free to experience the glory of the kingdom of God, free to know Me and My presence, free to feel the outstretched wings that He covers you with, free to receive that prophetic word that comes, free to allow the gifts of the most Holy Spirit to come to bear in your life. Come forth, little one, come forth now in the strength of this hour and the strength of this season. For, as I come and bring you into the fullness of this season you will indeed experience the freedom and the liberty that you are intended to live in, says God Most High.
September 21, 2014: Awake you who are asleep. These times are more perilous than you even imagine. You can fall into harms way in a moment, in a heart beat, on any given day, in any place and time. So, wake up and stand your watch and I will help you. I will walk with you, and be one with you, and anoint you to overcome all the difficulties that you encounter. Put away evil. Put away those things that cause you to get out of My will. Put away the things that open the door to the enemy. Put away all the things that will allow you to become a victim. You are an overcomer and more than able to stand and withstand the onslaught of the enemy. Rise up, awaken yourself and see the anointing I have provided for you, says the Lord.
September 28, 2014: Come on now, believe and receive that which I have promised. Spread your spiritual wings, even like the eagle on the earth spreads his wings so that he can be moved by the wind of My spirit to higher places; places of vision, places that you can see from, places that you can know from, and places that you can hear from. For, these days are indeed perilous; nevertheless, they are also the days of glory I have spoken about in My word when My glory comes to rest upon a people so that they are prepared for everything that takes place and they are prepared to go on with Me into the glory of this time and this season. So come. Come and join. Come and be one with Me, says the Lord.
---