THE TRUMPET
by Bill Burns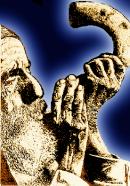 Hosea 8:1 Set the trumpet to your mouth!
NOVEMBER 2014
November 3, 2014: Rejoice and know Me; know Me as I am. Know My love for you and that I care for you. Know that My great desire is to walk with you and to lead you in the ways of righteousness. I know your heart, and I know your struggles. One day soon you are going to look behind you and you are going to say, "What trouble?" For, I will walk you right out of this valley of the shadow of death and into the light of My joy and freedom. I will make you understand My purposes in these days, says the Lord.
November 10, 2014: Gird up the loins of your mind. Remember My goodness. Remember those things I have done for you in the past. Remember how I have been One with you. Write a book of remembrance in your heart so that you can come to the conclusion that what I have done for you is evident and that I am not finished doing for you the things that need to be done. And, indeed, it will be well with your soul, says the Lord.
November 17, 2014: Rise up, My people, this is your finest hour. This is due season and time to receive the anointing of this day. It's time to stand up and walk on the path of the new beginning that I have prepared and that I am sending you on. Your advance will be more glorious than it ever has been and your adventures will be greater than anything you have experienced in the past. I will go with you and walk with you. I will empower you for this season. So, rise up in faith believing that which I am speaking to you.
November 24, 2014: Be resolute. Become sure of yourself. Allow your faith to grow. Allow your faith to ascend to open the storehouses of heaven by which you shall indeed receive the promises that I have appointed for you. Set your resolve again this day. Know that I am faithful. Come to Me with a heart of thanksgiving. Come to Me with joy. Come to Me, for I have brought you through the process of salvation into this time in which you will indeed gain the victory over every circumstance that comes against you. Today is a new day, a new spiritual day--a time to begin again, says the Lord.
OCTOBER 2014
October 5, 2014: Stand up My people! Shake off the dust of that which has come against you. Declare to yourself that you will rise above all that is a hindrance. For, I am calling you in this moment to come forth and come out of all oppression, all depression, all doubt and discouragement. Believe fully in Me. I will provide the power of your faith, says the Lord. Faith becomes a substance as you stand fully upon it to receive that which you need in this season.
October 12, 2014: The Lord says, "Come into the abundance of My love. Do not believe the lies of the enemy, for they will steal from you the promises that I have made. Come fully into My love. Allow Me to lead you and guide you in this season. Allow Me to be one with you. Allow Me to show you that you can prosper and that you can live every day of your life in victory. Allow Me to bring you to that place of peace, in Me, and all things will then work together for your good. Live under the rule of My kingdom in absolute love, joy, peace and unity with Me."
October 19, 2014: I hear the Lord saying, "Come on, stand up, and be counted. Come in to that which I am providing in this season. Let your faith arise and reach out to receive all I am doing in this time. The times are changing for your benefit. Receive that which I am doing, so that I can give you the goodness of this new place. Believe and receive." Psalms 27:13 I would have lost heart, unless I had believed that I would see the goodness of the LORD In the land of the living.
October 26, 2014: I am bringing you into a season of divine fulfillment--a season in which you can grow spiritually. It will be a season in which new understanding will come out of the teaching of My word and bring forth the power of the Spirit. You will embrace the Word in a fresh way that will produce revelation to cause you to be greater than you are today. You don't have to ask Me to increase your faith; you just have to ask for direction and believe that I will show you the right way to go. And, you will have the complete assurance and guarantee that I am bringing you into the fullness of what this season has in store, says the Lord.
---