THE TRUMPET
by Bill Burns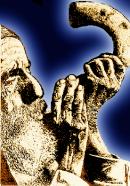 Hosea 8:1 Set the trumpet to your mouth!
APRIL 2015
April 6, 2015: The value of My life in you is underestimated. When My life flows in you, you can be who you have been called to be. And, you will be equipped by My word to become the kings of the age--those who rule and reign with Me as joint heirs forevermore. But, do not undervalue My love for you or the fact that I want to empower you. No matter what happens in your life I am with you to bring you through to victory, says the Lord.
April 13, 2015: I have spoken to you. I have spoken the truth to you. And, your spirit knows the truth that will indeed set you free. But, My greatest desire for you is to live in victory. The Spirit has been sent to you so that you will have victory in every aspect of your life. I want you to thrive and to prosper. I want you to live in joy, peace, and the health and prosperity that I have provided. All things are for your benefit. All you have to do now is to rise up and receive that which I have done, says the Lord.
April 20, 2015: Do you know that your body is the temple of My habitation? Do you know that I live and dwell in you? Do you know that I have been sent to cause you to come into a place of spiritual wellness and awareness? For, I am here with you to quicken your mortal body, to guide you, to lead you into the path of life. I am here to cause you to be greater than you are without Me. I am here to reveal the word of the Lord to you. I am here to present Jesus as King of Kings and Lord of Lords to you. I am here to tell you that the Father loves you, cares for you, knows you, and His greatest desire is that all of His will be established in your life and begin to work on your behalf--beginning right now, this very moment, this day, says the Spirit of the Lord.
---
MARCH 2015
March 2, 2015: I am calling you, My people, to a higher level of living, to a higher place of believing--a place in which you will be trained to rule and reign with Me over the nations, over those things that are to come. So, I encourage you to begin today by ruling over your own life, over your own situations and circumstances. Exercise your kingship today over the arenas that I have placed you in so that your habitations become the habitation of Christ. And, let those habitations become anointed. May it happen today, says the Lord.
March 9, 2015: I see and know your whole life. I have walked with you in the valley of the shadow of death. And, even though you may not remember, I have encouraged you to keep going, to keep moving, and to come to this place that I have brought you to so that you are dwelling in a place of liberty under the shadow of My wings. And, from this point on, things will be different. You can experience joy and peace in a fresh way. Renew your relationship with Me and walk with Me as I lead you into the fullness of My kingdom, says the Lord. Be blessed! Be renewed!
March 16, 2105: I am giving you signs in this season. Signs of confirmation. Signs that will enable you believe without the doubt that has plagued you in past seasons. For, this is the time of the growing up of My people; the perfecting of My saints. This is the time for you to come into what I have called you to be. This is the time to enjoy the journey that I have prepared for you. This is the time to walk with Me on that journey. Great joy and great peace shall be yours in this season if you will walk with Me, says the Lord.
March 23, 2015: My people have asked for wisdom. And, because they have asked I am revealing to them the process of My purposes, in these days, so that they can indeed be who they are called to be. So they can rise to the occasion; so they can rise up to that which I have called them to be; so that I can reveal Myself to them more completely in the process as they go forth to carry the nature of My character into this world. They shall know Me more fully and not only will they know Me fully, but those around them will know Me more fully because they have walked on the path of life and they have opened a way for people to see My goodness in their lives, says the Lord.
March 30, 2015: I hear the Lord saying, with a tremendous smile, "I am well pleased with you, My people, in this season. You are willing to listen to Me and willing to line up in accordance with that which I speak. You are learning and growing, and you must allow faith to arise to new levels within you. For, it is by faith that you shall survive the times that are ahead. It is by faith that you will continue to prosper in hard times--sometimes filled with great tragedy and dire news. Even in these seasons My people will rise up in faith and praise Me. Trust Me to bring you through all things to a position of victory."
---
FEBRUARY 2015
February 2, 2015: Let the journey begin. I have identified for you the way in which you should walk. I've spoken to you ears so that you could hear. Now you must allow your spirit to respond and react. My great desire for you is to walk on My pathway in this season. Enjoy the journey and see My mighty work. Let My glory come down, let My wisdom come, and you shall indeed abound in the promise of all I have spoken, says the Lord.
February 9, 2015: The Holy Spirit is saying, "What is the problem? Whatever you think it is, it is not. I am aware of your situation and your circumstances. You can trust Me to help you if you can only believe. I will fulfill My duty on your behalf and all you have to do is trust, believe and obey that which I speak to you.
February 16, 2015: You have heard Me, and you have listened. Now make that dynamic connection with Me that you so desire. It is by faith that you do so. All you must do is believe My word and position yourself to receive that which I am doing this day, in this hour, in this very minute. For, I have come to connect you to My life, to My power, to My joy, to My peace, so that you may know Me, fellowship with Me, and truly walk with Me, says the Lord. Today is a day of new beginnings for you, if you so choose.
---
JANUARY 2015
January 5, 2015: It is time for My people to rise up and receive the fullness of that which I have promised in My word. For, the signs of covenant promise have been given and they are coming to My people. And, with the flashing light of My right hand I will be with you and I will motivate you and I will move you in the fullness of this season. It is My purpose for you to go higher. It is My purpose for you to have complete victory over every situation and over every circumstance that the enemy will bring against you. Now is the time to make the choice; now is the time to make the decision. Will you walk in victory or will you allow yourself to be a victim? Choose this day whom you will serve and follow Me on the road to triumph.
January 12, 2015: Believe and receive. Step out in a place of faith that brings victory. I will do exceedingly and abundantly above all that you can imagine. No one will be left out of this process. You are about to enter the season of victory in all areas of your life. The windows of heaven will open and pour out the blessings of this season upon you, and you will know My love in a new way. Please remember that you can press into the vitality of My presence and receive healing in your body, spirit and mind. For, this is a time when you will see the demonstration of the Kingdom of Heaven, says the Lord.
January 19, 2015: Get up! Get up and go! Move towards the finish line. This race will take you through the process of your destiny so that you will understand it in ways that you have not known before. Enjoy the victories along the way, and become a mighty warrior in th
January 26, 2015: Beyond all of your expectations; beyond all that you can understand; beyond all that you can know--this is how I choose to bless My children in ways you cannot even perceive. Rise up, My people, and cast off doubt. Remove double mindedness. Respond in faith to that which I have spoken and receive the blessing of this season in a glorious and unique way, for I call you this day to be blessed, says the Lord.
---